'The Hunger Games' Has Massive Debut at Box Office!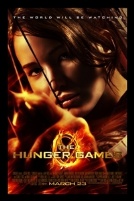 Lionsgate's much-anticipated big screen adaptation of the New York Times bestselling novel "The Hunger Games" shatters expectations and delivers the third best opening weekend of all time (and the best ever opening for a non-sequel) with a mind blowing $155 million! Earning $68 million on Friday (including $19.735M in midnight screenings), $51 million on Saturday and an estimated $36 million on Sunday, the film has made its way into the pantheon of big movie debuts. IMAX delivers once again with $10.6 million in 268 locations and impressively $40,000 per screen (and that's one screen per location!). The PG-13 rated film about a dystopian future where teenagers are pitted against each other in a televised fight to the death has captured the imagination of audiences and the results were truly impressive this weekend. Lionsgate CEO Jon Feltheimer and Vice Chairman Michael Burns are to be credited with giving their distribution and marketing teams the freedom to mount a flawless blockbuster release of the film.
"The Hunger Games" international highlights provided by Lionsgate are as follows:
The film grossed and impressive $59.25M and is projected to be the No. 1 title in virtually every single market.
Highlights were English-speaking markets, especially top territory Australia where it had a breakout performance of $9.69M, comparable to many franchise first films such as Harry Potter, Star Wars Episode 1 and Transformers. (New Zealand contributed an excellent additional $1.27M).The UK also performed very strongly with $7.49M, despite unseasonably beautiful Spring weather in No. Europe.
Other over-performers were Russia with an excellent $6.5M, and Scandinavia markets combined totaled $3.7M.
Additional top markets were Germany with $3.9M, France $3.75M, and early estimates from Mexico $3.59M and Brazil $2.6M.
Asian markets also posted very strong numbers:
Philippines: $1.71M (which has also done huge numbers on the Twilight franchise)
Singapore: $1.38M
Taiwan: $1.36M
Hong Kong: $709k
Malaysia: $655k
Thailand: $649k
UAE ($656k) and the Gulf region also impressive with almost $1M combined.
Sony's R-rated action comedy "21 Jump Street" had a much stronger-than-expected debut last weekend and had a solid second weekend of $21.3 million despite the 500 pound gorilla at the top of the box office chart. Starring Jonah Hill and Channing Tatum, the film has been performing well mid week and will finish out the weekend with around $71 million in total bail money.
Universal's "Dr. Seuss' The Lorax" has been a winner since its debut over the first weekend in March. The film had a massive $70.2 million opening weekend and has continued to be the number one PG-rated family film choice having earned over $160 million to date in North America. In this its fourth weekend of release, a $13.1 million gross pushes it impressively past the $177 million mark.
Disney's big budget sci-fi adventure "John Carter" entered the weekend with North American revenues of almost $60 million and grabbed another $5 million in this, its third weekend of release. The film has pulled in $62.3 million to date in North America and $234.4 million globally.
Relativity Media's "Act of Valor" came in fifth with $2.062 million and broke the $65 million mark as it continues to rake in the bucks and has impressively been in the top five for five weeks in a row. Warner Bros.' R-rated comedy "Project X" crossed the $50 million mark earning $1.95 million in sixth place.
Year-to-date box office continues to astound with revenues running a whopping 19.27% ahead of 2011 at this point.
Weekend Box Office (Estimates)
Movie Weekend Gross Total to Date
1 The Hunger Games (PG13) $155.0M $155.0M
2 21 Jump Street (R) $21.3M $71.0M
3 Dr. Seuss' The Lorax (PG) $13.1M $177.3M
4 John Carter (PG13) $5.0M $62.3M
5 Act of Valor (R) $2.1M $65.94M