'The Hunger Games: Mockingjay': How Should It Be Split?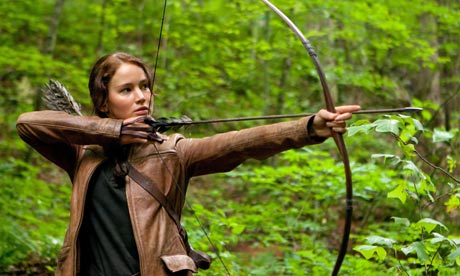 Bella opening her eyes for the first time as a vampire, Voldemort taking the Elder Wand from Dumbledore's tomb, and Katniss, well, we're not quite sure yet. Following in the ongoing Hollywood trend to milk a wildly successful franchise for all its worth, it was announced yesterday by Lionsgate that the final part of The Hunger Games saga, Mockingjay will be split into two movies. The Hunger Games: Mockingjay parts 1 and 2, will be released on Nov. 21, 2014 and Nov. 15, 2015, respectively. 
Of course, the decision to divide Mockingjay could be just as polarizing as the last part of the trilogy itself. While it certainly gives the filmmaker(s), whoever they may be, the opportunity to expand upon the surprisingly rushed conclusion of the final book, not to mention the fact that
Mockingjay
feels like a two-parter (first with the underground District 13 and then moving on to the battle at the Capitol) the questions remains of where, exactly, Part 1 would leave off and Part 2 would pick up. For those who haven't read the books:
SPOILERS AHEAD!
In terms of high-stakes drama, The Hunger Games: Mockingjay Part 1 could fade to black when District 13 is under attack. (Katniss, the newly appointed "Mockingjay" is wracked with guilt as moviegoers would be wracked with anxiety awaiting the fate of Peeta.) Alternately, if the filmgoers wanted to really make for a Katniss/Peeta cliffhanger, Part 1 could end with the tense moment when a brainwashed Peeta lunges at Katniss. Still, an all-District 13 movie would feel nothing short of claustrophobic, so even though it would make the running time on Part 2 remarkably shorter, the drama might feel the most amplified with Katniss and her fellow rebel fighters descending upon the Capitol, where the stakes have never been higher for everyone in Suzanne Collins' Dystopian world.
Of course, the decision to divide
Mockingjay
could be just as polarizing as the last part of the trilogy itself. So how do some of the series biggest, most devoted fans feel about the decision to split up
Mockingjay
? Well, pretty split, actually.
Crystal Watanabe
, an administrator at
The Hunger Games
fan site
Mockingjay.net
told Hollywood.com that, "In general, it seems like the entire fandom is split. I've seen people complain about Lionsgate just being greedy. A lot of people point to
Catching Fire
as their favorite book, so that's naturally the one that they want to see split into two movies. I disagree, however, because
Catching Fire
seemed to have about the same amount of content as
The Hunger Games
, which just barely fit into one movie." 
Watanabe, who is in favor of the split ("Mockingjay was in dire need of two movies or else the end product would have been ridiculously disjointed and difficult to follow") and the yearly release dates ("The way I look at it is that it's a lot better than having to wait almost two years between The Hunger Games and Catching Fire") has her own hopes for how the movies play out, too. "Lionsgate will [probably] end it with the 'new' Peeta. I think for a better movie they will have Katniss help with the rescue operation and this will be the climax of the film, though she won't see him until they get back to District 13 and they'll end with their first reunion." 
Sheila Cordero
, an admin for fellow fan site
HG Girl On Fire
, is also in favor of having two
Mockingjay
films. "I know some fans have expressed concern that the book Mockingjay isn't a very long book and will not have enough content to split into two movies," she told Hollywood.com, "[But] I believe doing it this way gives movie the opportunity to explore other characters' points of view." Cordero, who said she would like to see part 1 end "after they rescue Peeta and he and Katniss are first reunited and she is shocked at Peeta's reaction to her," hopes two
Mockingjay
takes moviegoers takes us to places the book never did: away from Katniss' perspective. "We might get more insight into what is happening in the other districts, how the rebellion is affecting the Capitol, what Peeta is experiencing when held captive by President Snow, events from Haymitch's perspective, President Coin's behind-the-scenes interactions, and, of course, more of Finnick and Johanna's back story." While every fan won't get exactly what they want to see happen in the
Mockingjay
films (for every fan like Cordero who wants to see the movie expand the book's horizons, there are fans like Watanabe who would prefer "to experience everything with and through Katniss") they can all agree on one thing: they're all eager to see if the odds will be in their favor.  
[Photo credit: Lionsgate] 
More: 
Hunger Games Finale: Mockingjay Gets Two Movies, Release Dates