5 Rides and Attractions for the New 'Hunger Games' Amusement Park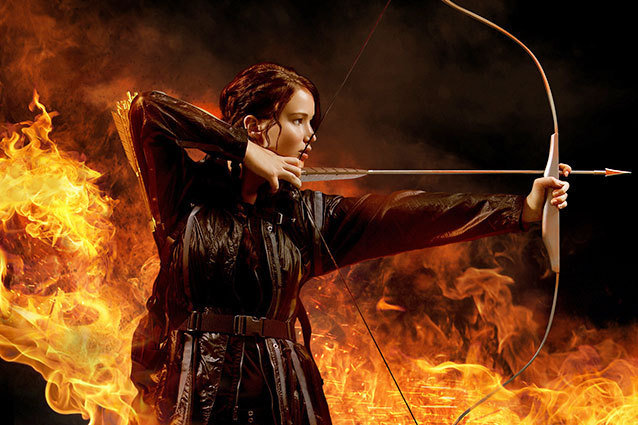 Lionsgate
Getting a movie based off of your YA novel is pretty darn easy these days. Try getting an entire theme park based on your book series — now that's when you know you've really made it as an author. The Hunger Games might soon join the ranks of Harry Potter as Lionsgate is considering building a Hunger Games theme park… because nothing says fun like a fascist dystopia! So what amazing rides and attractions will dot the landscape of "Hunger Games World"?
The GALExy
An interactive shooting game based on Gale Hawthorne's life. It begins in District 12, hunting deer and other forest animals, and gradually turns into the rebellion/war where you fend off attackers in the Capitol. Whoever wins gets a life-size cardboard cutout of Liam Hemsworth.
The Emotional Roller Coaster
Be Katniss in the midst of a love triangle and make wild, whiplash inducing twists and turns as you struggle between Peeta and Gale. Featuring the 300-ft high Hill of Self-Reliance… which you never go over.
Peeta-Perfect Cakes
If you don't have the fortitude to experience the Emotional Roller Coaster, why not embrace the sensitive baker in all of us by visiting Peeta-Perfect Cakes. This gentler portion of the park is filled with activities like: cake decorating, arts and crafts, and poem writing. All activities are instructed by a Peeta look-a-like.
Effie's Trinkets
A gift shop filled primarily with gaudy jewelry and fashion accessories. You are chosen by a lottery run by the elaborately uniformed cashiers to be able to purchase the items of your choosing, or be vanquished to the dire fate of a postcard and a keychain.
Cinna's Capitol Makeover Spa
Adults can take a break from a busy day of children and coasters by relaxing at a luxurious spa modeled after the affluence of the Capitol. Sit back and relax while you're primped and primed by dozens of men that vaguely resemble Lenny Kravitz.