Is 'The Incredible Burt Wonderstone' Offensive to Professional Magicians?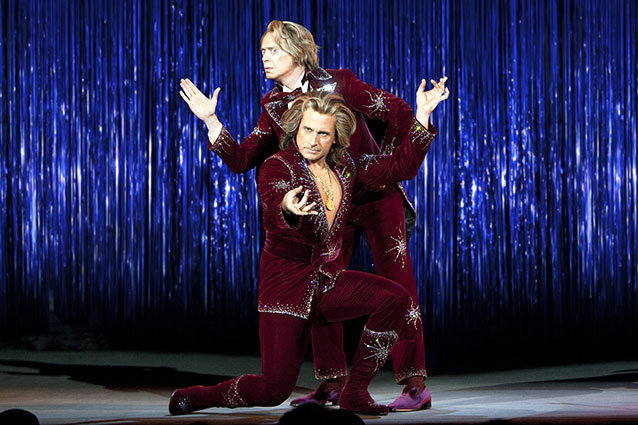 It's pretty easy to make jokes about Steve Buscemi and Steve Carell clad in spandex and sparkles, donning self-tanner and oversized wigs, presenting big budget illusions on a Las Vegas stage with the help of a busty blonde. But what about the part where you remember that while The Incredible Burt Wonderstone may make you giggle, it's poking fun at a very real profession? What about the part where you realize most career magicians don't have the protection of a huge stage or large television production and are actually working hard, day by day to make their chosen profession a lucrative one? Is it still funny, or does it cross the line? We spoke to a few well-known magicians to find out.
Magician Jeff Grow from New York has performed his act for events at Lincoln Center in Manhattan and he's won numerous awards to boot, and he says he's planning on seeing the Carell comedy this weekend. "I would say that [the movie is] sort of accurate in the sense of you know there's a lot of competition amongst magicians as far as staying relevant in the public eye," he says about the film, which pits Burt Wonderstone (Carell) against Tommy Lee-esque rock star illusionist Steve Gray (Jim Carrey) as they vie for the biggest magic show on the Vegas strip.
RELATED: 'The Incredible Burt Wonderstone' Review
And while the particular magicians in this comedy are the spandex-loving set, they don't represent everyone in the community of professional magicians. "It seems to me at the outset that it's not exactly parodying magicians but it's parodying their personality types," says Grow.
It's something Mario Marchese (also known as Mario the Magician) is picking up on as well. "If you think of chefs or drummers, they're all kind of weird and that's kind of like magicians. There's this weird eclectic kind of thing and I guess the movie is just exploding those things," he says.
<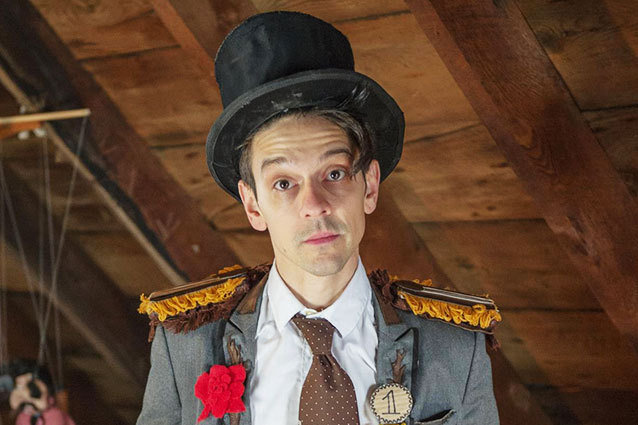 Mario Marchese, a.k.a. Mario the Magician
Whereas we're inclined to remember TV and showy magicians of Burt Wonderstone's ilk as the face of the profession, it's important to remember there are performers of all sorts in the field of magic, like Marchese, who repurposes items to "Build Magic" as a part of his act for children. Then there's Grow, whose bread and butter is illusions with a side of entertainment. Neither of these guys ever feels the need to paint their faces with translucent glitter and ditch their button up shirts for velour suits.
RELATED: 'Burt Wonderstone' Trailer: Steve Carell is Very Orange
Adding to the diversity is the Waldorf-Astoria Hotel's magician in residence Steve Cohen, whose cocktail-attire only show includes illusions as well as the practice of mind-reading. And even Cohen has a sense of humor about Burt Wonderstone's take on the world of professional magic. "Burt Wonderstone pokes good-natured fun at magicians in the same way that [This is] Spinal Tap teases rock music," he says.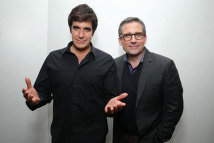 Cohen brings up a good point. Countless "fringe" professions have endured the scathing jokes of a pointed parody movie, from ice skating in Will Ferrell's polarizing Blades of Glory to NASCAR drivers in Will Ferrell's also polarizing Talladega Nights: The Ballad of Ricky Bobby (Ferrell apparently likes to test the very specific waters on the regular). Both films featured cameos from professionals in the fields Ferrell was poking fun at including NASCAR driver Dale Earnhardt, Jr. and former Olympic ice skaters Dorothy Hamill and Brian Boitano. In a similar vein, David Copperfield not only posed for pictures with Burt Wonderstone's Carell for publicity (above), he has a cameo in the film and acted as a consultant during production.
But what about depictions like G.O.B. (Will Arnett) on Arrested Development? His character is one of the little guys, someone trying to make it as a magician in his daily life and failing spectacularly (although that one time he accidentally cut off Buster's prosthetic hand, things worked out alright), and his character seems to be built from similar cloth to that of Mr. Wonderstone.
"[Arnett] was making fun of someone, but it wasn't a parody, per se. They weren't saying that all magicians were like that it,but this one particular guy was, it was his character," says Grow, who is asked about his opinions on the clumsy character almost daily. It's a distinction that almost applies to Carrell and Carrey too: They are taking on the world of professional magic in this movie, but as two very singular people in the realm, not as flag-waving representations of an industry as diverse as any other entertainment profession, including Spinal Tap's beloved rock scene. 
RELATED: Steve Carell in Sequins – 'Burt Wonderstone' Pics
The world of magic as a profession is something that will likely never be totally understood on a mainstream level, but it doesn't seem to worry Marchese, who's less concerned about people confusing his job with Carell's outlandish parody and more concerned with the benefits of the small, yet diverse profession he's chose. "It's definitely a sub thing, it's kind of like one of those underground things you fall in love with and you never blow up and you're sort of just happy inside," he says. While Burt Wonderstone may poke fun at the magicians we've seen time and again on television (think Copperfield, David Blaine, and even Criss Angel), the movie doesn't speak for the whole community and in that way, makes it more likely to elicit a chuckle from even the most serious and sensitive magic man (or woman).
From Ferrell's endless B-comedies to Christopher Guest's line of parodies including This is Spinal Tap and its folk music equivalent A Mighty Wind, comedy has a long tradition of sticking it to the world's most entertaining professions. Thankfully, as we approach yet another movie in that vein, we can all watch and giggle without guilt. For the most part, even the folks on the receiving end of Burt Wonderstone's ruthless parody can find the lightheartedness of it all. 
Follow Kelsea on Twitter @KelseaStahler
[Photo Credit: Warner Bros. Pictures; Twitter]
---
You Might Also Like:


Topanga's Revealing Lingerie Shoot: Hello '90s!


Stars Who Have Lost Roles For Being Too Hot (Celebuzz)