The 'Justice League' Films That Might Have Been.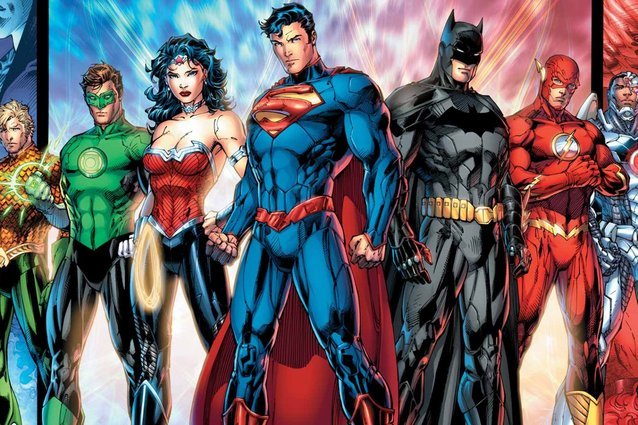 DC Comics
There are three things certain in this life: death, taxes, and the Justice League movie. After Zack Snyder delivered a successful Superman movie in Man of Steel, it was only a matter of time before a Justice League film would eventually follow suit. Now, Warner Bros. has announced that the sequel to the upcoming Batman Vs. Superman will, in fact, be the Justice League. Snyder will grace the director's chair once again, and the film will star Henry Cavill as Superman, Gal Gadot as Wonder Woman, Ben Affleck as Batman, and the newly cast Ray Fisher as Cyborg. According to The Wall Street Journal, The script is still in development, so the film is unlikely to come out before 2018.
Promise of a genuine  Justice League film has kept the rumor mill spinning for nearly a decade, with seemingly every blockbuster director under the sun having his name mixed up in talks for helming the project. Call it the comic book geek in us, but we wonder what all those possible Justice League films would look like in the infinite parallel universes where different directors were actually the ones hired to direct the film. 
McG
Relevant Films: Charlie's Angels, Terminator Salvation, 3 Days to Kill 
What would his Justice League look like: Beyond a penchant for violence and quick pace, the director has never really had a distinctive style to call his own. He's certainly never been big on taking chances. We have a feeling his Justice League would be serviceable but generic offering that will please some, but not be the big, ballsy, game changer that WB needs this film to be in order to compete with Marvel's cinematic dominance. It would be passable, but not a film anyone will be still raving about by the time summer wanes into fall.
Ben Affleck
Relevant Films: Gone Baby Gone, The Town, Argo
What would his Justice League look like: Affleck has shown his talents time and time again in the thriller genre, and has found the perfect middle ground between prestige drama and popcorn thriller. Affleck's Justice League would probably be more moody and low-key, with more of an emphasis on character over bombast, at least more so than your typical summer blockbuster. 
Joss Whedon
Relevant Films: Alien Resurrection, Serenity, The Avengers
What would his Justice League look like: Imagine if DC scooped up Whedon before Marvel did? All of Whedon's films have that same talky, quick-witted, and airy sense of fun about them, which would be a huge about face from Snyder's current vision of the franchise. Expect big, bold, primary colors, quip-laden banter, and an adventure that doesn't take itself overly seriously. Oh, and someone's gonna die before the credits roll.
Christopher Nolan
Relevant films: Batman Begins, The Dark Knight, Inception, The Dark Knight Rises
What would his Justice League look like: If given the reigns over the film, Nolan would create the most prestigious, self-serious film about a spandexed green Martian and his super-powered friends ever created. Like his Batman films, The director would try to superimpose the Justice League into as close of a facsimile to real life as possible. And while that approach worked wonders for Batman, it probably wouldn't work with a group of heroes as fantastical as the Justice League.
Brett Ratner
Relevant Films: X-Men: The Last Stand
What would his Justice League look like: Ratner's last foray into comic book film, X-Men: The Last Stand, buckled under the weight of a plot overstuffed with too many mutants. We doubt that a Justice League move, which would be similarly stuffed with heroes by necessity, would fair much better under Ratner. 
Ruben Fleischer
Relevant Films: Zombieland, Gangster Squad
What would his Justice League look like: Zombieland is great, but the woefully miscalculated Gangster Squad makes us wonder what a Ruben Fleischer Justice League would look like. We speculate that a Fleischer directed Justice League to miss the mark, reveling in graphic violence and death, but not giving those things their due reverence, some of the criticisms leveled at Zack Snyder's Man of Steel.
Zack Snyder
Relevant Films: 300, Watchmen, Man of Steel
What will his Justice League look like: Now, for the one we're stuck with. Since Mr. Snyder is actually directing Justice League, we're hoping he learned a thing or two from the missteps taken in Man of Steel. Nonetheless, we're  expecting a moody, brooding, self-serious take on the league — one that has some impressive visual sequences, but spends too much time trying to dazzle, and loses track of character in the middle of all the spectacle.