'The Killing' Actress Mireille Enos Joins 'World War Z' As Brad Pitt's Wife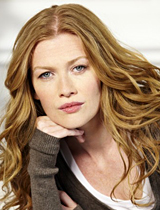 So apparently, Rosie Larsen's death was the best thing that could happen for Mireille Enos' career. The actress, who's currently hunting down a murderer as Detective Sarah Linden in AMC's new terrific drama, The Killing, has officially made the jump to the big screen with a role opposite Brad Pitt in World War Z, the adaptation of Max Brooks' novel, directed by Marc Forster.
The story is set roughly 10 years after a global zombie epidemic and in the book, many perspectives from around the world give oral histories about what happened. In the film — adapted by Michael Straczynski and Matt Carnahan — Pitt will play a U.N. worker with Enos playing his wife. The picture is set to start shooting in June, but then again, this project has been delayed quite a few times, so, you know, there's a good chance we'll experience an actual zombie apocalypse first.
Source: The Hollywood Reporter