'The King's Speech' Hits Blu-ray in April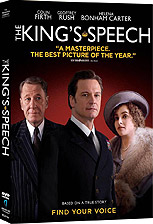 It's a simple enough story, King George VI had a stutter that hindered his ability to speak and connect with his people in an age when the radio was quickly becoming a staple in governmental practice. Then Tom Hooper, Colin Firth, Geoffrey Rush and writer David Seidler came together and delivered the story as a touching tale of a man who would be king and the man who helped him through one of the greatest struggles of his life. Hoping to keep that Oscar momentum going — four little golden men should keep them in the limelight for a bit longer — the folks behind The King's Speech are rushing to get in on shelves so you can enjoy the fantastic Best Picture and Best Actor performance at home.
The highly acclaimed film hits Blu-ray and DVD April 19 and includes commentary from director Tom Hooper, "Making of The King's Speech," and actual footage of the real King George VI. Details of the Blu-ray's other features are limited, but "many more" are promised.
Source: Comingsoon.net