The Ladies of 'Total Recall' and the Best Female Badasses in Movies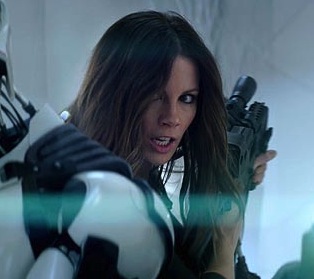 This week's Total Recall sees the coupling of two of Hollywood's biggest female badasses: Jessica Biel and Kate Beckinsale. The former has clocked plenty of time roughing up bad guys in movies like Blade Trinity and A-Team, while Beckinsale has made a career out of her vampire hunting franchise Underworld. Recruiting them both — and pitting them against each other — for one big sci-fi showdown is an action fan's dream come true. As if women don't get enough time to shine in the action genre, suddenly we get two buttkickers for the price of one.
To bide some time before Total Recall's fight of the leading ladies, Hollywood.com has compiled some of the biggest female ass kickers in movies. The only distress these damsels are experiencing is the sweat they breaking after taking down their enemies:
Mallory Kane (Gina Carano) from Haywire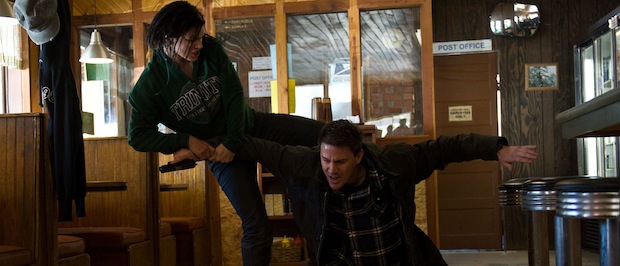 Getting physically close to Channing Tatum and Michael Fassbender is something most woman can only dream of. Of course, in those dreams, we're probably not kicking their asses into oblivion.  In 2011s  action thriller, mixed martial arts fighter turned actress Gina Carano played Mallory Kane (man, even her name was badass) a highly trained, lethal operative who must go up against those who have betrayed her. And man, did those fellas (which also included the likes of Ewan McGregor and Antonio Banderas) pay the price dearly. Not only did Carano's background make the thrilling fight sequences look authentic (and damn painful) but she managed to look stunning doing it. Eat your heart out, guys. The only disappointing thing about Carano and Haywire? The box office disappointment likely won't get the multiple-sequel lady Bourne franchise it so richly deserves.
The Bride (Uma Thurman) from Kill Bill

Unnamed (until the denouement), unforgettable, and seemingly unkillable, Uma Thurman's The Bride in Kill Bill Volumes 1&2 is the definition of badass. While she is directly responsible for the deaths of dozens of gangsters and assassins, it is The Bride's will to survive that makes her so truly kick-ass. She survives a shot to the head, a coma, rape, multiple instances of hand-to-hand combat, and — in one of cinema's most claustrophobic scenes — being buried alive. The Bride's ability to rise up, brush the dirt off her shoulders (literally), and fulfill her mission to avenge her daughter is about as close to superhuman, and superawesome, a girl without superpowers can get. 
Diana Guzman (Michelle Rodriguez) from Girlfight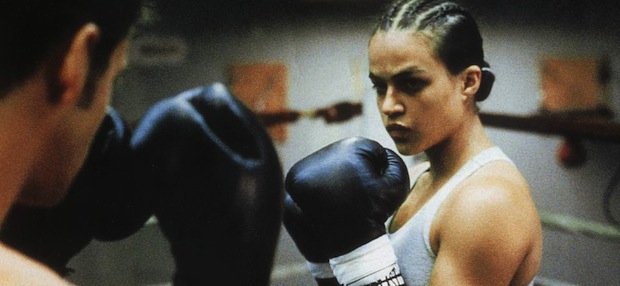 Some kick ass ladies save the world, some just beat the poo out of their enemies for revenge. A select few, like Diana in Girlfight, punch the living daylights out of their adversaries just to earn a buck. An aggressive teen still dealing with her mother's death, Diana focuses her aggression towards the world of boxing — much to her father's dismay. There she takes down boxers of both genders while learning a thing or two about life. The good kind of fighting!
Miss Scarlet (Lesley Ann Warren) from Clue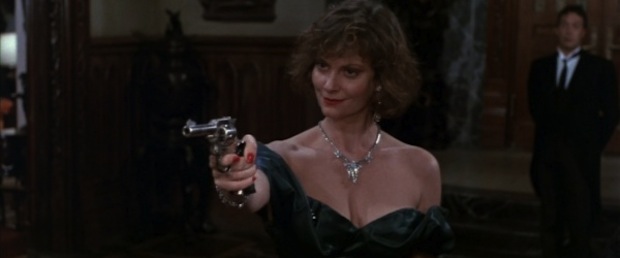 Sure, she gets arrested in the end for committing six murders in the space of an evening, but there is something seriously kick ass about Clue's killer-in-chief Miss Scarlet. First of all, she runs an espionage ring out of her brothel which, if the world had relaxed morals, would be pretty much the coolest job of all time. And then she manages to off all of her accomplices in a creepy old house without anyone knowing for hours which takes the guile of a genius and the quietness of a cat. Let's not forget that, like most butt kicking ladies in the movies, she really has a way with a revolver. ("I am your singing telegram." Bang!) If only she wasn't taken down by her truly terrible math skills. After all who could figure out two plus one plus two plus one plus one….CRASH!
Ridley (Sigourney Weaver) from the Alien films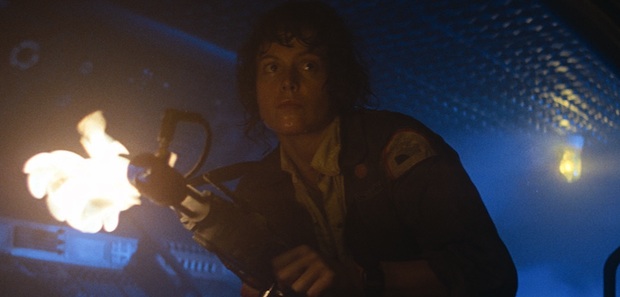 It takes a good amount of poise, knowhow, and agility to defeat a carnivorous killing machine that has wiped out every last one of your coworkers. In Ridley Scott's original masterpiece Alien, Sigourney Weaver played Lt. Ripley with an exceptional degree of heroism. Alone, she faced and defeated the titular beast who was out to destroy her (and her cat) after having taken down the rest of her crew. But the talented Miss Ripley was too smart, too skilled, too monumentally badass to let some narrow-minded (and -faced) extraterrestrial take her down.
Who else earns their place in the pantheon of female ass-kickers?
More:
Jessica Biel on 'Total Recall': 'It Is F**king Huge'
'Total Recall': Hollywood.com Resurfaces Memories of a Visit to the Set
[Photo Credit: Sony Pictures, Relativity, Miramax, Screen Gems, Paramount Pictures, 20th Century Fox]