'The Last Stand': Guns, Guns, Schwarzenegger, Guns, Guns, and More Guns — TRAILER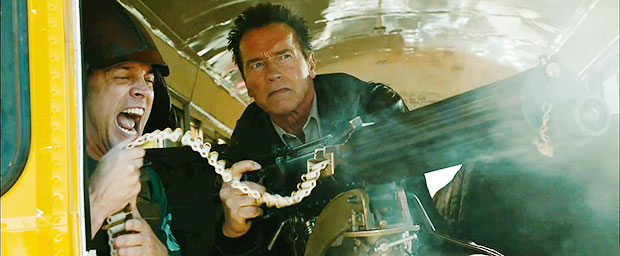 The Hollywood Reporter noted that last week while promoting his hyper-violent new action comedy caper The Last Stand, leading man Arnold Schwarzenegger fielded questions about the topic of violence in movies in the wake of the Newtown tragedy. While the 65-year-old actor/former California governor who is pro-gun and pro-background checks agreed that after a tragedy of that scope we should "look into all ways of what we can do as a society to improve the situation and to reduce the risk of those kind of issues," he thinks the violence in film debate should be a separate thing entirely. "This is entertainment and the other thing is a tragedy beyond belief and serious and the real deal," he told reporters.
If Schwarzenegger's latest is any indication about how okay with violence in movies is, look no further than the red band trailer for The Last Stand. It's a minute-and-half-long visual assault of guns, guns, and more guns. There's Schwarzenegger (as a Sheriff who was just hoping for a "quiet day off") and co-star Johnny Knoxville (as a loose cannon who refers to his machine gun as his "crazy bitch") furiously and oft happily firing rounds at "bad guys" who all go down in a bloody hail of fire (one loses some limbs) while they hunt down a fugitive. Whatever post-Newtown sensitivity we may have still had has been unceremoniously blown to bits by this trailer. And to think we were worried about a joke that had nothing to do with guns in This is 40 not all that long ago.
[Photo credit: Lionsgate]