Everything Is Awesome in the Hilarious 'The Lego Movie' Trailer
Legos were always the best toys as a kid because everything just fit together so well. Of course, it was all by design, but there was joy in knowing no matter what playsets you had, they would all connect in whatever combination you wanted with a swift click. With some easy construction, you could have the Teenage Mutant Ninja Turtles teaming up with Batman and it all made perfect sense in a playtime logic sort of way. Now all those childhood battles come to life in the newest trailer for The Lego Movie.
The trailer is infused with the most amount of joy one can possibly inject into molded plastic. Chris Pratt's exuberance is the perfect fit for the lead character as we watch his jerky, joint-less movements explore the colorful land of Lego World. The story follows Emmet, an ordinary guy who is mistaken for The Master Builder, the only person capable of saving the Lego World from the tyranny of Lord Business (Will Ferrell). Along for the ride is an assortment of great voices including Liam Neeson, Will Arnett, Nick Offerman, and Morgan Freeman. The clear standout is definitely Will Arnett's take on Batman, who has all of the caped crusaders dark confidence, but none of his actual competence.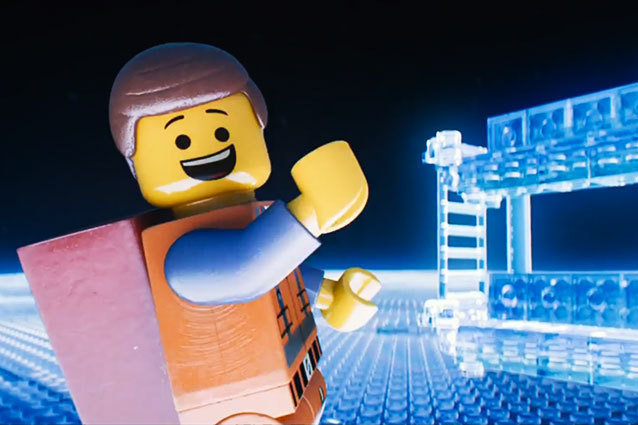 Warner Bros. Pictures/YouTube
Warner Bros. has constructed what looks to be a suffocatingly likable adventure built brick by brick with references that hit every square inch of the pop culture landscape in a bonanza of an animated movie. One of the surprising things about the trailer are all the adult jokes that skate around the clip's colorful energy There are even vintage lego pieces dotted throughout the trailer, copies of which are probably stuck between your mom's couch cushions right now. 
The Lego Movie hits Theaters February 14th.