'The Living Daylights' Is My Favorite James Bond Movie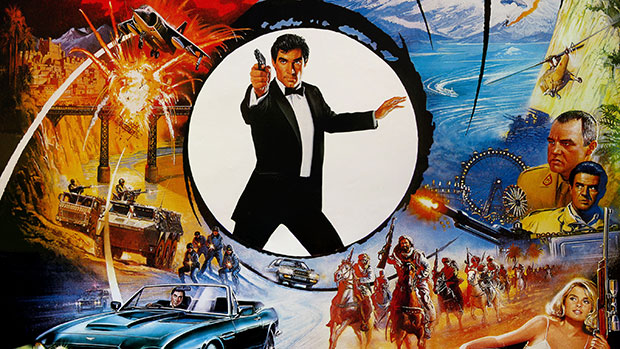 With 23 different entries, the Bond series offers something for everyone. Different Bond attitudes, varying scales of action, unique approaches to humor and charm — like a blockbuster Mad Libs, the 007 formula has its blueprints, but leaves plenty of room to play.
That makes picking a favorite difficult, but there's a Bond movie that sums up everything to love about James and his particular brand of spy entertainment, it's the under-seen, under-appreciated 1987 gem The Living Daylights. Under the eye of longtime Bond editor and director John Glen, Living Daylights marks the first of British thespian Timothy Dalton's two entries (he followed it with 1989's Licence to Kill). After years of courting the actor, producers finally got their wish for Dalton to take on the role — and with his addition came a darker, more sophisticated tone.
The plot for The Living Daylights fits snuggly in the Bond ideology, riffing off Cold War themes and taking just enough coherent twists and turns to keep us on our toes. In the beginning, Bond is assigned to help defecting KGB officer General Koskov escape Czechoslovakia. But Koskov has ulterior motives; behind-the-scenes, the Russian military man is working with Brad Whitaker, a nefarious American arms dealer. When Bond catches wind of the deception, he hits the road with a orchestral cellist-turned-sniper to uncover Koskov's operation: a grander scheme rooted in opium trade and the Soviet war in Afghanistan. That's a lot of meat on the bones of Living Daylights, but in true Bond fashion, the thrills are never bogged down by the politics.
Living Daylights goes from standard issued to quintessential Bond thanks to Dalton's pitch perfect performance. There's a reason he's barely remembered in the pantheon (and why certain Bond enthusiasts will dismiss those of us who enjoy him!): he attempted to do what Daniel Craig did in 2006, but at a time when people weren't ready for it. The actor was 43 when he earned his Double-0 status, and it shows. His Bond is rugged, a bit weathered, and often cold. Whereas previous Bonds found comedy in fumbling around, Dalton was committed to playing the spy with an unflinching determination for getting the job done. In the opening, Bond participates in a skydiving exercise that ends with the death of his fellow MI-6 comrades. When he encounters one of the dead bodies, we see a twitch of emotion, a desire for revenge as he eyes a mysterious note: "Smert Spionam," translated as "Death to Spies." Bond escapes unharmed, but you know he's going to bust up whoever killed off his coworkers.
Dalton's Bond is unexpectedly relentless — at one point, he roughly strips a girl naked in order to momentarily distract and kill a gut-toting bodyguard — but there's plenty of heart in Living Daylights. Maryam d'Abo as Kara Milovy, the musician who becomes an integral part of Bond's mission and evolves into his romantic interest, drops the exaggerated personas of past "Bond Girls" and makes for a viable partner for Bond. Dalton's version of the character reciprocates, showing off a level of sweetness rarely found in the hound dogs of Bond history. The humor is there too, with Dalton coating the eyeroll-worthy one-liners with the level of gravitas only a Shakespearean-trained actor could provide. That's something Craig has rarely been able to land and a poison to the later Moore movies, but in Living Daylights, Dalton seamlessly transitions from smirking debonaire to lethal badass faster than the shot of a PPK. Not every Bond could pull off wearing a tux to a carnival.
The Living Daylights also bridges the gap between the action of Bond old and new. There's nothing that could top the adrenaline-pumping train car fisticuffs of From Russia with Love, but Living Daylights wisely mixes similar close-quarters fighting with large-scale action. If you think Bond movies pre-1990 don't hold up in the spectacle department against today's action-infused adventures, Living Daylights should change your mind. The stunts Glen pulls off in the installment are unreal: Dalton is fully capable of beating the… living daylights… out of his adversaries (see: the jail escape sequence) and matching the physicality in a number of shootouts, including a wild finale with the Whitaker character. The infamous cello case chase scene, in which Bond and Kara sled down a mountain on the cellist's instrument of choice, embraces the absurd in a way the Moore films seem oblivious too. And the grand finale — riding the heels of Bond leading an Afghan Mujahideen and his troops into battle against the Russians evoking a Lawrence of Arabia vibe — matches anything on display in the Craig Bond films or even the recent work of Christopher Nolan. Nolan is known to be a Bond nut and it's obvious he took some cues from Dalton's films. The aerial stunt, almost all practically shot in the air with stunt men, seems inconceivable in the today's CG-minded special effects world.
It's hard to pick just one Bond, but if there's one that deserves a little more consideration and appreciation in the history books, it's The Living Daylights. Any movie with an a-ha theme song shouldn't take convincing.
Follow Matt Patches on Twitter @misterpatches
[Photo Credit: United Artists]
More:
'Skyfall' Producer Barbara Broccoli on 'Serious Bond' and 9/11's Impact on the Series
Red, White, and Bond: Why the American Spy Genre Struggles While 007 Thrives
10 Actors Who Almost Played James Bond
From Our Partners: