'The Lone Ranger' First Photo: Johnny Depp & Armie Hammer Are American Heroes
The new film adaptation The Lone Ranger is a project that has seen some rocky times. The movie, starring Armie Hammer and Johnny Depp as the Lone Ranger and his sidekick Tonto, respectively, fell in and out of production, finally cementing its fate back in October. And to those naysayers who are still worried it wouldn't happen, we have proof: the first photo from the film featuring Hammer and Depp side by side, in some pretty glorious incarnations of the classic characters.
Producer Jerry Bruckheimer tweeted the photo earlier today, allowing us a first look at the rugged, mysterious masked man (Hammer) and his lovable right-hand man (Depp), bringing us back to the days when political correctness was eons away. The picture amps up excitement surrounding the developing project. You can be sure (despite his rather sour mug in the picture below) that Depp is especially pleased that progress has reached this point, as he has been quite vocal about his passion for a The Lone Ranger film adaptation since the beginning.
The film is directed by Gore Verbinski, and is expected to hit theaters in May of 2013.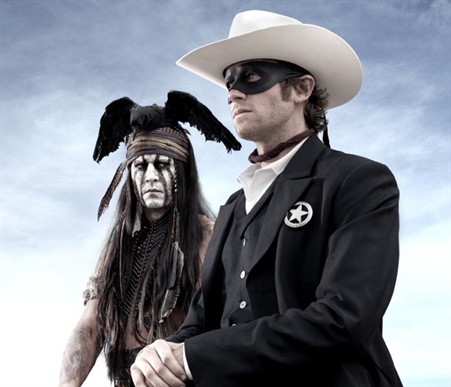 Source:
Jerry Bruckheimer