'The Lone Ranger' Thrills with Fire Balls and Train Chases at Super Bowl — TRAILER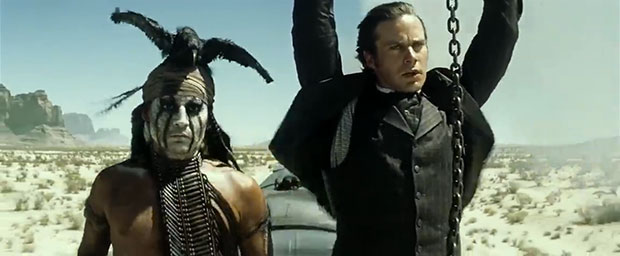 To date, what we've seen of Gore Verbinski's Lone Ranger has not exactly lived up to the director's flair for adventure: a few vast sweeps of the Old West, one or two hints at an exciting train sequence yet to come. But we knew that the Pirates of the Caribbean franchise helmer could do more with this material, originally dreamed up by the wide-eyed hero worship with which post-WWII American pop culture was riddled.
RELATED: 'The Lone Ranger' Unmasks Sweeping New Teaser — TRAILER
The newest trailer for the Disney picture, premiering as a lead-in to Super Bowl XLVII, delivers each of the elements we'd be expected from Verbinski's take on the age old character. Stars Armie Hammer (the titular masked man) and Johnny Depp (his sage Native American companion) hop runaway trains, save damsels in distress, face grimacing baddies, catch bullets md-air (it's the Lone Ranger!), and — here's the kicker — sprint frantically through an underground tunnel, evading the wrath of a ferocious fireball.
RELATED: Johnny Depp Gets Gangster (Again) for 'Black Mass'
Fans of Depp's turn as Jack Sparrow — especially those with an additional taste for cowboy culture — will celebrate the lively, colorful nature of Verbinski's illustration of The Lone Ranger, while those recalling the hyper-real spirit of the original television serial will champion new opportunity to showcase the imagination associated with the story and its characters.
Check out the Super Bowl trailer for The Lone Ranger, and catch the film in theaters on July 3.
[Photo Credit: Disney]
---
You Might Also Like:

Biden? Ford? Surprisingly Hot Young Pics of Politicians

Who Wore This Crazy Hat?

Stars Who Changed Their Look After Love