The Miz on Telling the Stories of U.S. Troops in His WWE Action Movie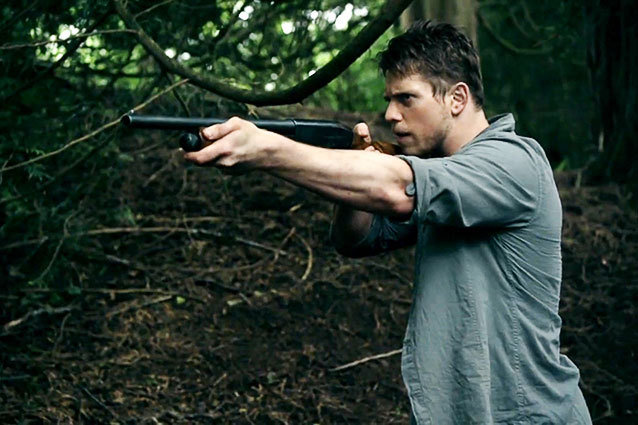 It's easy to peg Mike "The Miz" Mizanin as a particular type of actor. He started as a contestant on MTV's The Real World. From there, he entered the world of professional wrestling. After years of duking it out in the ring, Mizanin hit "WWE Superstar" status, winning championships and becoming one of the main "characters" of the league's bloody soap opera. Like many of his wrestling forefathers, Mizanin leveraged his time in the WWE to make a movie: The Marine 3: Homefront.
But there's little luck to Mizanin's success. Most of it — whether it sounds cocky or not — is thanks to a strong belief in his own abilities.
"I am the most Must-See WWE Superstar of all time and I thought WWE Studios had a great opportunity to have me in one of their films," Mizanin says. "It's kind of surreal, to be in such a successful franchise. From Cena to Ted DiBiase to The Marine 3. Not only do I hope to continue the success, I hope to exceed both of them in success. And hopefully people will enjoy the movie more than any other movie they've ever seen in their entire lives."
RELATED: The Rock Talks Proving Himself as an Action Star in Hollywood
Mizanin grew up in Parma, Ohio, where, according to the actor, there was one path of life for every resident. "You go to college. After college, you go back to Parma, Ohio, you get a job and you get a family and that's what you do." Although much of his early life was spent breaking free and proving himself as a performer, Mizanin admits that The Marine 3 had him going back to his roots.
"[Director] Scott Wiper would be like, 'I want Mike from Parma,'" Mizanin says. "Because that's the kind of setting that [my character] Jake Carter lives in. That's what's different about it. I wanted to bring a real character into it." Mizanin has a laundry list of unexpected influences for his work in The Marine 3. He admits that Van Damme's Bloodsport and Seagal's Under Siege as movies he loved as a kid, but when it came to performing for the first time, he looked to legends, like Clint Eastwood in The Good, the Bad, and the Ugly and Dirty Harry, and Steve McQueen in Bullitt. "They don't say much, but when Clint Eastwood walks into a room, there's that star power. That aura. That vibe you get."
In the end, Mizanin knew he had to dig deeper than just the "action hero" type. "Mike from Parma" was a part of it. The other was real life troops and the difficulties they experience after coming home from war. "When a marine comes home off leave, he's so used to being in battle, so used to protecting," Mizanin says. The actor insists that The Marine 3: Homefront is the type of movie designed for pure entertainment, yet it tackles a fairly serious subject: post-traumatic stress. He puts it bluntly: "[Jake] doesn't know how to live that normal life because he's used to being at war."
RELATED: Katy Perry Joins the Marines — VIDEO
That's sensitive material that the film — which delivers on all the shootout, explosion, fist-fighting craziness one would hope from a Marine movie — and Mizanin worked tirelessly to make it respectful and genuine. "I wanted to make it as authentic as I could with the Marines. I had Marines show me how to hold a gun, how to walk through a room, how to survey a room." The actor has experience in the war zone too: through WWE's "Tribute to the Troops," Mizanin has traveled to Iraq, Afghanistan, and Bahrain to entertain U.S. soldiers and hear their frontline stories. Some he still can't believe.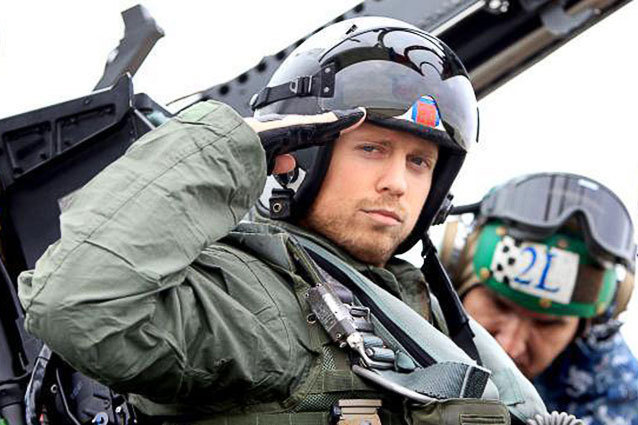 "One kid, he's 19-years-old, he basically runs an armored vehicle. And the vehicle had an orange pole sticking out of it, so I ask him, 'What's the orange pole for?' And he said, 'it hits the land mine so it blows it up.' And I said, 'Have you been blown up before?' And he said, 'Yeah, got blown up yesterday.' I said, 'What?!'"
With all the ongoing discussions of military use and gun violence in the media, Mizanin stands by The Marine 3: Homefront as both a movie that paints Marines in a positive light and works as a piece of kick-ass entertainment. If it inspires someone to join the armed forces, he thinks that's great. If it inspires someone to pick up a camera and make their own action movie, that's great. If it inspires a kid from Parma to seize an opportunity and follow his dream, that's great too. Mizanin has experienced his own fair share of inspiration — from a WWE career to meeting soldiers in the Middle East — and he hopes The Marine 3 gives something back, one way or another.
"I always say: do whatever you want to do. If that's your dream, go for it. I always say, live free. Allow yourself to do whatever you want to do. Don't let people guide your life. You guide it."
The Marine 3: Homefront is out now on Blu-ray.
Follow Matt Patches on Twitter @misterpatches
[Photo Credit: WWE Films; Twitter]
---
You Might Also Like:


Topanga's Revealing Lingerie Shoot: Hello '90s!


15 Stars Share Secrets of their Sex Lives (Celebuzz)