The 'Monsters Inc.' Sequel Has a Name, Finally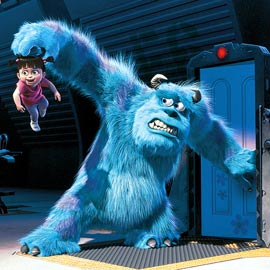 This news isn't as awful as I thought it would be. Yes, there is a Monsters Inc. sequel. My first thought was "well, crap." Monsters Inc. is pretty much perfect as is — not to mention one of my favorite movies ever. The ending was fantastic; there is really no secondary storytelling needed. Come on, Disney. But then, just last night, they announced the two crucial bits about the film set to hit theaters in 2012. First, it's called (drumroll please) Monsters University. Ta-da. Okay, that sounds different enough from the first one.
My only worry now is that some previously circulated deleted footage from the sequel showed Sully (John Goodman) and Mike (Billy Crystal) searching for Boo after she's moved away from her old door. (Remember, her door is the portal from Monsters Inc. to her house?) That concept was deplorable, to be frank, so I'm pleased to announce that the sequel will actually be a prequel. While I doubt this new picture will have the incredible heart of Sully befriending an adorable toddler whose presence is misunderstood and it will likely fall back on the goofy, strange idea that Monsters have an entire society that lives outside of our own, I think it will probably be some good ol' Pixar fun. Plus, the original cast — Goodman, Crystal, and Steve Buscemi (Randall) — are returning for round two, so that's a good sign, right?
Source: THR