'The Mortal Instruments: City of Bones' Is So Nonsensically Bats**t Crazy That It's Kind of Awesome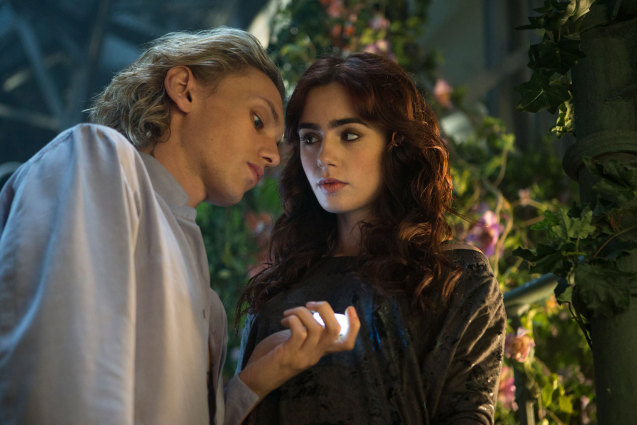 There is something to be said for ambition. The sort of unabashed, no holds barred, balls to the wall energy that makes anything seem like a good idea. Though you'll cock your head at the results of this kind of caution-to-the-wind bravado, the all-inclusive "sure, why not?" attitude, you can't help but crack a smile for the purveyors of this spirit: the first grader who stuffs his class diorama with every figurine and pipe cleaner machination he can muster, the bird who lines its nest with candy wrappers and Fedex receipts, or the people who made the Mortal Instruments movie. They, quite possibly, are the mightiest knights of them all.
You don't have to wait too long for the crazy to kick up in The Mortal Instruments: City of Bones. We open on the most spacious apartment in the history of Brooklyn, where young Lily Collins is beginning to see mysterious symbols popping up everywhere, only the first sign of the fantastical journey set to take form. Mother Lena Headey, aided by her platonic friend Aidan Turner, plays the Dursley card and takes effort to deter any exploration of the ominous elements to befall her daughter. But as with every spunky mystic around her age, Collins cannot be restrained. She follows her heart and embarks on a quest, aided by her platonic friend Robert Sheehan, through every single conceivable element of modern fantasy. 
The Harry Potter similarities continue when Collins is ushered into a demonic otherworld via New York City's equivalent of a murky train platform (an ecstasy-laden dance club), guided by New York City's equivalent of a haggard woodland giant (a perpetually shirtless goth ghost, played by Jamie Campbell Bower). Working her way up from glowing-eyed club druggers and pieces of living jewelry to demons, werewolves, witches, vampires, and interdimensional portals — tossed in one by one as we gradually abandon all devotion to any margins of logic — Collins engages in an adventure that seems entirely open to all possibilities. Or at least all possibilities that have proven vigilant at the box office in the past four years.
And as she engages, so do we. Not exactly in the way you engage with Harry Potter… more in the way you engage with the Harry Potter ride at Islands of Adventure. You'll embrace the likable and talented Collins just enough to forge the sort of relationship you want with a fantasy heroine. You'll find yourself rooting one way or the other in the love triangle between her, the Shirtless Shadowhunter (Campbell Bower), and her lovestruck pal Simon (Sheehan). You won't have to work too hard to understand most of the mystical facets tossed your way: you know the rules of vampires (no sunlight), of werewolves (they're dudes sometimes), of demons (they're bad). And when it does get confusing, like when teleportation bubbles and portal beams from the afterlife and curses and tarot cards and dreadlocks are tossed into the equation, you have the luxury of abandoning the puzzle. You're not asked to understand anything, just to accept it all.
Accept that all this madness can, does, and should occur within the malleable reality occupied by Collins and her ghastly friends. When it is revealed that classical musicians had a hand in these supernatural forays, accept it. When you're taken from wizards' palaces to Willy Wonkian wonderlands to the destitute streets of a haunted Manhattan post 3 AM, accept it. When genealogical revelations tie everything together in a bow so strange as to put the peculiarity of bat invasions, corpse armies, glowing hieroglyph tattoos, and memory erasing club promoters, accept it. If you can do all that, you'll find a comical thrill ride in this two hours of steadily accelerating madness, this Mulligan Stew of YA fiction. But if you're too hung up on logic, rules, world building, or any semblance of pacing, stick with Potter — Mortal Instruments is for the most adamant "sure, why not?"-ers only.
4/5
Follow Michael Arbeiter on Twitter @MichaelArbeiter | Follow hollywood.com on Twitter @hollywood_com
More:
Lily Collins Talks 'Mortal Instruments'
Jared Harris Talks 'Mortal Instruments'
Hollywood.com's YA Summer Book Club
---
From Our Partners


Battle of the Bikini Bodies (Celebuzz)


Complete Guide to Strippers in Movies and TV (Vh1)