The New 'Mortdecai' Trailer Shows Johnny Depp Being Fun Again
We thought we wanted serious Johnny Depp. We were wrong.
After watching Depp struggle through a dry turn as a megalomaniacal calculator in Transcendence, a performance that was about as dull as a couple lines of binary code, we realized that we missed the old Johnny Depp. We missed the actor that could bring the swaggering pirate Jack Sparrow to life, the actor who could capture the horror and ecstasy of a drugged-up Raoul Duke in Fear and Loathing in Las Vegas, the actor who could put his own spin on Willy Wonka without succumbing to a stale impersonation of Gene Wilder. The actor we see in this first trailer for Mortdecai.
In the film, Depp plays the eponymous Charlie Mortdecai, a debonair and extremely European art dealer who is part-time rogue, full-time buffoon. In the clip, we see Mortdecai, fully equipped with his own man servant and a world-class moustache, traipsing around the world and getting into trouble with both women and the law. The teaser is light on actual plot, but there appears to be a ton of fun shenanigans heading our way, thanks to a cast filled with the likes of Ewan McGregor, Gwyneth Paltrow, Paul Bettany, Aubrey Plaza, and Olivia Munn.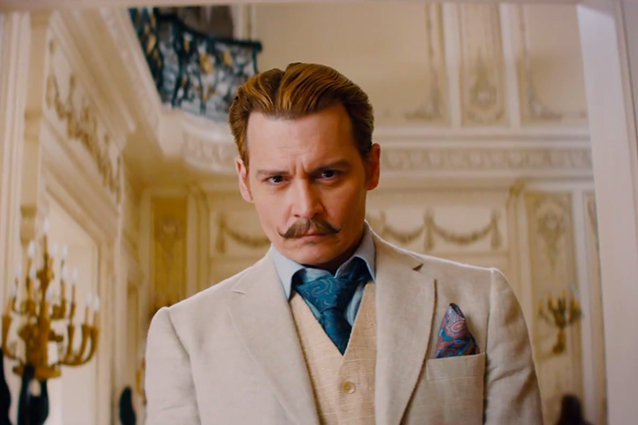 Lionsgate
While we admire Depp's recent attempt to play a more serious role after years of playing wacky eccentrics, but serious shouldn't be synonymous with boring, and given the two options, we'd much rather see Depp let loose and embrace his wilder inclinations. Depp has a certain silliness that allows him to play such absurd characters better than just about anyone else in Hollywood, and it's good to see the actor back in his kooky comfort zone. Stay strange Johnny!