'The Oranges': A Funny Thing Happened on the Way to Adultery — VIDEO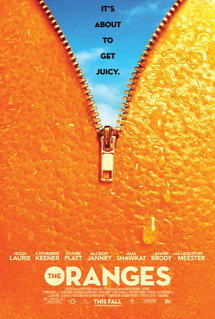 Don't you just hate it when your mom catches you about to do it with someone? Isn't it just the worst when that someone is your dad's best friend? Who's married? And your families do everything together? Welcome to The Oranges. The film, starring House star Hugh Laurie, as well as a bevy of other very well and good actors, tells that story, and yes, it is as delightfully uncomfortable and seemingly strange as that all might sound.
You see, the story is that The Ostroff and Walling families of West Orange, NJ, are super close. They do all sorts of things together all the time! (It nearly looks like a Big Love-type situation.) But then–and here comes the woopsie–Walling patriarch David (Laurie) falls for Ostroff daughter Nina (Leighton Meester, XOXO), which makes things kind of awkward! And definitely weird.
Supported by an eclectic-but-good cast made up of Catherine Keener, Oliver Platt, Adam Brody, Allison Janney, and Alia Shawkat, the film looks like a quirky-but-serious dramedy with a nice little bouncy soundtrack attached. The story is unexpected, but familiar enough to seem like it will play out well. Plus who can say no to Hugh Laurie and his heartily-convincing American accent, right?
Check out the trailer below:
The film looks like a fine and entertaining romp, and has a limited US release on October 5, 2012.
Follow Alicia on Twitter @alicialutes
More:
'Arrested Development': Details on the Netflix Reboot (Season Four, Five, AND Six?!)
Hugh Laurie Amps Up the Evil as 'RoboCop' Villain
'House' Series Finale React: Hugh Laurie Gives Dr. House Something to Live For