The Other Guys look to top Box Office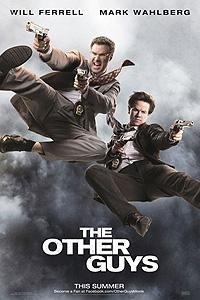 Its looks like Will Ferrell and Mark Wahlberg are set to take over the top spot at the nation's theatres as Sony's "The Other Guys" prepares to assault the weekend.  A terrific marketing campaign (including a very prominent spot on TV's "Big Brother 12"), a great action/comedy premise and solid reviews give this the makings of an early August hit.  Ferrell's average wide release debut is $24.2 million and Wahlberg's is $20.2 million, therefore a debut in the $25 million plus range, would position it as the film to beat this weekend.
Chris Nolan's "Inception" has enjoyed pretty much total domination of the marketplace since its debut on July 16 with continued weekend and mid-week success.  Notably It has been number one for 19 of its first 20 days in release.  With a second weekend drop of just 32% and a third weekend drop of a mere 36%, the film has already crossed the $200 million mark and become part of the national discussion and is also a favorite film of the social networking universe.  Another drop in the mid-30% range would put the mind-blowing film at just under $20 million for the weekend.
Disney's "Step Up 3D" follows in the very capable dance steps of 2006's "Step Up" which debuted with $20.7 million and 2008's "Step Up 2 the Streets" which opened with $18.9 million.  Despite the absence of Channing Tatum (the star of the first two films), the 3-D component could give it a bit of a revenue boost and it will likely land in the third spot with $15 million plus for the weekend with a decidedly younger demographic looking to just have a good time at the movie theatre.  The battle for the fourth and fifth spots will be tight as Sony's "Salt" and Paramount's "Dinner for Schmucks" will likely land in the low $10 million range with the seemingly unstoppable "Despicable Me" giving them a true run for their money.
Five consecutive "up" weekends as we head into the home stretch of the summer movie season and we still have some solid films on the way including next week's combustible combination of Sony's "Eat Pray Love" Lionsgate's "The Expendables" and Universal's "Scott Pilgrim Vs. the World."