'The Possession' Possesses Audiences With $21.3M at Box Office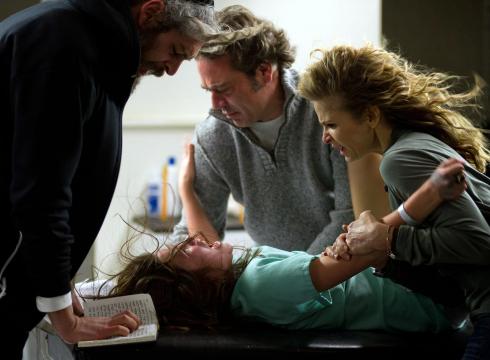 The end of August marks a softer box office period than the season's explosive early months. Still, movie audiences this weekend found themselves possessed with The Possession, helping the Lionsgate film earn $21.3 million at the box office over the Labor Day weekend's four-day (F-S-S-M) period.
But it seems 2016: Obama's America is still possessing more conservatively minded audiences — the controversial documentary finished at No. 8 this weekend with $7.1 million for Friday through Monday. And, as expected, there was little love for Oogieloves — the adaptation of the TV franchise raked in $827,134 in 2,160 theaters since its debut last Wednesday.
Summer started off with a bang with "The Avengers," and then it was a roller-coaster ride from then on with some box office major ups ("Ted," "Brave," "Ice Age," Dark Knight" and "Spider-man") and some downs ("The Watch," "Step Up," "Rock of Ages," "That's My Boy") and those ups and downs were reflected in the running tally for the summer as high hopes for a record-breaking revenue number were dashed by a weak late summer marketplace with no "Rise of the Planet of The Apes" or "The Help" to give us a big home stretch push. Those two movies alone added a whopping $286.8 million to the 2011 summer revenues through Labor day. Unfortunately there was no late summer one-two punch like that this year.
The Summer Movie Season will wind up with $4.275 billion for the first weekend in May through Labor Day. This is 2.84% below last year's record Summer take of $4.4 billion. Attendance will wind up at around 533 million tickets sold which is the lowest in almost 20 years.
Below, see the top five films of this weekend.
1. The Possession: $17.7M/$21.3M for 4-days — Week 1
2. Lawless: $10.0M/$13.0M for 4-days — Total since it opened last Wednesday $15.1M
3. The Expendables 2: $8.9M/$11.2M for 4-days – $68.6M Cume — Week 3
4. The Bourne Legacy: $7.3M/$9.4M for 4-days – Cume $98.375M — Week 4
5. ParaNorman: $6.550M/$8.8M for 4-days – Cume $40.3M — Week 3
[Image Credit: Lionsgate]
More:
2016: Obama's America: Box Office Surprise
Expendables 2 Crushes Competition!