Your Pre-'Divergent' Shailene Woodley Refresher Course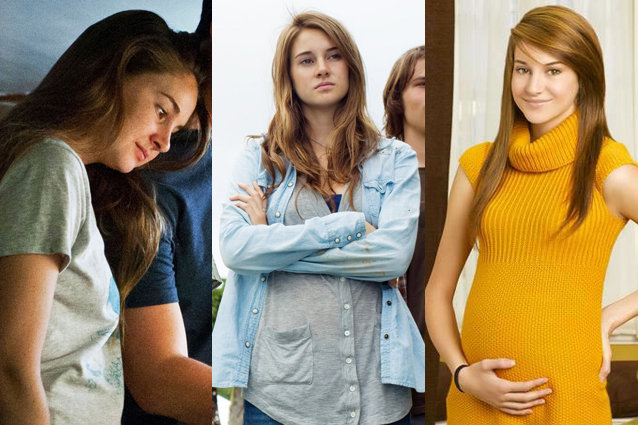 Everertt Collection/ABC Family
Shailene Woodley is right on the precipice of becoming Hollywood's new it girl. Although her name is relatively new to this level of stardom, Woodley didn't come out of nowhere. The actress has been handing in impressive work here and there for years, and some of her back catalogue deserves a second look. Now, Woodley is set to appear in the upcoming YA blockbuster Divergent, in which she plays a teenager living in a dystopian future Chicago that separates its citizens into different factions. Before watching Woodley as Tris Prior in Divergent, Check out some of her other notable work.
The Secret Life of the American Teenager
What's It About? In the ABC Family soap, Woodley plays Amy Jurgens, a freshman at high school who becomes pregnant after a one-night stand at band camp. Cue the drama.
How's Shailene? This is Woodley's first starring role on television. Compared to her other films, this teen soap is some pretty inconsequential stuff. But the actress' talent does shine through the soapy mess when she's onscreen. If you really have a hankering for some Woodley before Divergent, there are six whole seasons of baby mama drama to watch.
What's It About? In Hawaii, attorney Matt King (George Clooney) struggles to cope with his wife's coma and infidelity while playing dutiful father to his ruffled daughters. In the film, Woodley plays Alex, a bawdy teen who is slowly unraveling after her mother's accident.
How's Shailene? In Woodley's breakout film role, she portrays Alex as a rebellious and conflicted teen who's not equipped to deal with the tragedy at hand. She's forced to hide her mother's affair from her dad, and Woodley confidently navigates a tricky performance that asks her to convey conflicting emotions, especially when dealing with the subject of her dying mom. It's a great performance that really puts Woodley on Hollywood's radar.
What's It About? Sutter Keely (Miles Teller) is a charismatic high school senior who keeps his doubts about the future at bay with a healthy amount of alcohol, and has no interest in his building a life for himself outside of the four walls of his high school; that is, until he meets Aimee, played by Woodley.
How's Shailene? Shailene's Aimee is a geeky every girl. She's the shadow in the back of the class who Sutter never really notices until he finds himself passed out on a neighbor's lawn. In what many consider to be Woodley's finest performance to date, she's plays Aimee as a shy and vulnerable yet eclectic and intelligent young woman who could thrive if given the chance. Woodley gives her character such depth in the role, and she could apply those acting chops to Tris, another character that juggles many distinct character traits.