The Scale of Movie Star Personalities from Emma Stone to Joaquin Phoenix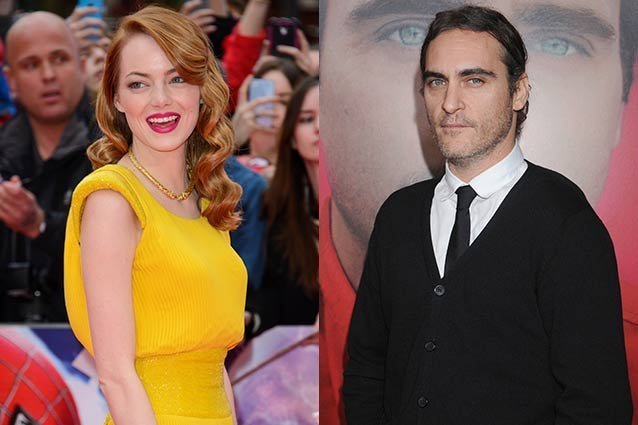 WENN/Getty Images
Talk about an odd couple. According to The Hollywood Reporter, everyone's dream best friend Emma Stone has signed on to Woody Allen's next film, which will see her star opposite Joaquin Phoenix. The project is rumored to be a big ensemble piece, but even knowing more casting is still headed our way can't help us reconcile the idea of Stone and Phoenix sharing the screen. See, Stone is one of the bubbliest, warmest people in Hollywood, and she's become known for her charm and sense of humor. Phoenix, on the other hand, is the exact opposite: he's known for being aloof and slightly strange, onscreen and off. If there were a scale of movie star personalities, these two would mark the two extremes between outgoing and friendly and intimidating and off-putting. Don't believe us? Check out the scale for yourself: 
Emma Stone 
Is there a single person on this planet who isn't charmed by Stone's warm, goofy personality? We thought not. 
Aziz Ansari
Aziz Ansari might be one of the most outgoing people in Hollywood — he's practically a human Tiny Toon — still highly approachable, but occasionally too manic to handle.
Will Smith
He's the original king of sheer, unbridled enthusiasm, but you'd have to make your way through a pretty big entourage/family (and all that bravado) to get close enough to experience it. 
Anna Kendrick
She's charming and goofy, but something tells us that you better bring your funniest jokes and your wittiest banter if you want to befriend Kendrick. 
Allison Janney
Allison Janney seems like the kind of person who's just as likely to invite you for drinks as she is to cut your down with a hilarious one-liner. She suffers no fools. 
Mark Ruffalo 
Mark Ruffalo is the perfect celebrity median: charming and fuzzy, but also stoic to the point just below standoffish.
Mark Wahlberg 
Intimidating and charismatic in equal measure; the kind of guy you'd love to grab a beer with, even though you'd spend the whole time scared that a fight would kick off. 
Kristen Stewart
Her reluctance to smile and goof off in interviews has become a trademark, but she's too frail to actually be frightening.
Christoph Waltz 
Christoph Waltz is the kind of charming where you're never quite sure if he's complimenting or insulting you, but you're just gonna agree with him anyway. (Or else…)
Dane DeHaan
There's a reason Dane DeHaan has primarily played villains thus far in his career, and that reason is that he's pretty terrifying. 
Joaquin Phoenix 
Remember when Joaquin Phoenix made that weird movie about becoming a rapper and had a "breakdown" on Letterman? Yeah, that's why he tops this end of the scale.