'The Social Network' Prize Pack Giveaway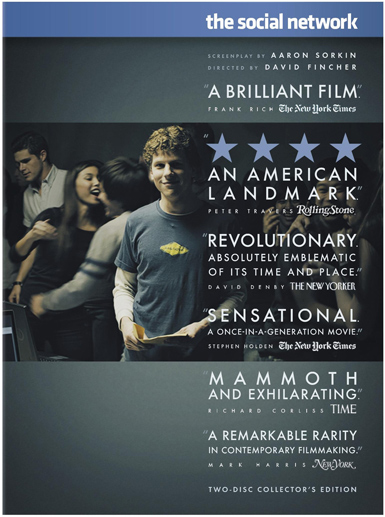 Called "the best movie of the year" by Rolling Stone, The New Yorker, and the New York Post. We said it was a meditation on right vs. wrong and gave it 5 stars.  The Social Network is a story about the founders of the social-networking website, Facebook. It has been nominated for 6 Golden Globes®, including Best Picture, Best Director, and Best Actor.
The film hits stores this Tuesday, January 11, and we're just giving away a free copy of the DVD plus some other goodies!
About the Film
David Fincher's The Social Network is the stunning tale of a new breed of cultural insurgent: a punk genius who sparked a revolution and changed the face of human interaction for a generation, and perhaps forever. Shot through with emotional brutality and unexpected humor, this superbly crafted film chronicles the formation of Facebook and the battles over ownership that followed upon the website's unfathomable success.
The Prize Pack
One lucky winner will receive:
(1) 'The Social Network' DVD
(1) Hoodie
(1) T-shirt
(1) 'The Social Network' Soundtrack

How To Enter:
1. Follow us on Twitter by clicking HERE.
2. We'll be tweeting out a question at 1:00 PM EST (the link to the question will be posted below). Simply answer the question by replying to that tweet.
A winner will be chosen randomly at the end of the day.  Good luck!
Answer the question HERE
NOTE: You MUST have a valid U.S. address.