'The Three Stooges' Set A Start Date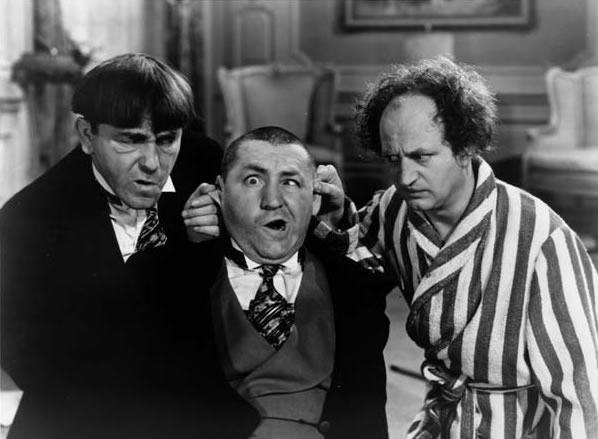 It's finally happening. A start date is set for the long-awaited Three Stooges movie. Apparently, MGM's recent bankruptcy was 20th Century Fox's good luck charm, allowing the studio to scoop up the project from recently restructured MGM and slap a date on it.
The Farrelly Brothers are leading the project and since they worked their way into the comedy world with the silly, slapstick ridden classic, Dumb and Dumber, it makes sense that they would be the driving forces behind a film about the kings of slapstick.
With all that time spent waiting, they've had a good period to get all their ducks a row. The stepson of one of the Stooges and proprietor of the Stooges estate has signed on as executive producer and Bobby and Peter Farrelly had the help of Mike Cerrone to seal the deal on the script. Everything is set – well, everything except a cast.
No matter how great the framework to pay homage to the classic comedy troupe is, any knucklehead can see that the casting is the key. And of course since that's the really difficult part, they've saved it for last. The film at one point had Jim Carrey (makes sense) and Sean Penn (wait, what?) tied to it, but those notions have been crushed since the project stalled. Also rumored to be involved was Benicio Del Toro as Moe, which could actually be kind of poifect if he ends up signing on for good. He's got a big enough range to pull off a pretty good "Why I oughta…" but the search is still ongoing.
It may come down to the wire to find the right guys to take on Larry, Moe, and Curly, but I'm sure lifelong comedy fans like Peter and Bobby Farrelly aren't going to take the chance on mucking up the nyuks, nyuk, nyuks.
Source: Deadline