The Top 10 of 2010
10. The American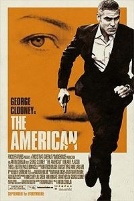 This George Clooney-fueled spy movie disappointed some movie goers thanks to a trailer that packed more action than the actual film, but behind the misguided guise of its marketing campaign was a beautiful, detailed, European-style film that harkened back to the days of Cary Grant and explored the subtleties of a spy's quiet exile. There aren't a great many action scenes and even the few that are sprinkled throughout the film require patience and a keen eye, but as long as you're not expecting a James Bond style thriller they don't disappoint.
The American moves slow and methodically but with purpose, much like its protagonist who attempts to escape the spy life with one last job which sends him into hiding in a small Italian village. Director Anton Corbijn perfectly captures the daily paranoia as Jack navigates the cavernous and winding cobblestone streets of his new-found hideaway and the film swaps heavy dialogue for a host of subtle visual clues. The old cliché of that last spy job in a European village can be forgiven once the film really hits its stride; the standby plot is treated with care and a gritty elegance that makes The American is not only a joy to watch, but a film that lingers long after the last frame. -Kelsea Stahler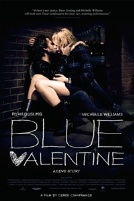 Like fine wines, some troubled film projects gets better with age. Writer-director Derek Cianfrance struggled for nearly 12 years to get Blue Valentine made and that long hard road mirrors the tumultuous marriage that the movie chronicles. Centering on the lives of Dean and Cindy, the film runs the course of their ten year relationship through its ups and downs before coming to a devastating conclusion.
Cianfrance effortlessly creates the blue-collar lifestyle that Dean and Cindy inhabit while guiding two of the industry's most talented performers to slam-dunk performances. Ryan Gosling and Michelle Williams come close to perfection in their respective roles; they make their misery your own and though it is difficult at times, you won't be able to take your eyes off of them. The film itself will probably be remembered most for its infamous rating-fiasco, Gosling and Williams' careers may very well be defined by this beautifully bleak piece of work. -Daniel Hubschman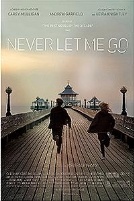 Simply put: no movie this year made me feel more human than Never Let Me Go. The fact that it's a science fiction film is just icing on the cake. But unlike most sci-fi, the only special effect in Mark Romanek's adaptation of Kazuo Ishiguro's acclaimed novel is that there are no special effects. Romanek opens with just a few curt title cards vaguely explaining the clone-based nature of the story's alternate reality. After that, all of the genre elements become background to a story of what it truly means to be human; what it really means to live and love and lose. It's not a grand film, but a subtle, understated story about three children who grow up in a purpose-driven world void of distraction and influence. And yet even in their pristine, single-purpose lives, they fall prey to the fears and pressures of what we all know is inevitable; that the hourglass is always running out of sand and there are no do-overs. -Peter Hall
7. Scott Pilgrim Vs. The World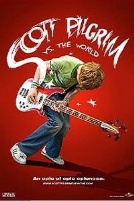 Here's the thing about Scott Pilgrim vs. The World: it's a really good movie that is well directed and acted. The effects, though far from ground breaking, are extremely fun. Yet between being fairly critically acclaimed and bombing at the box office, it has already been shuffled off to cult status (exactly where it would want to be, though it deserves something more). What kept it from being universally adored was that it was so specifically designed those unaware of said specificity quickly wrote the film off.
Edgar Wright perfectly captured today's pop culture obsessed youth, but those looking at the material from the outside only saw flashing lights (much like how video games were originally perceived as not art). We're the world's first generation brought up on video games and the film showed that. Wright's brilliant direction was spot on and Michael Cera stepped up to show some remarkable range while Kieran Culkin's dark horse character delivered some of the funniest lines of the year. All in all, it had everything that makes a film great. It's unfortunate that most people were too uptight to give it a fair chance. -Sam Morgan
6. True Grit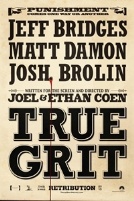 When is a remake not a remake? When it's a Coen Brothers remake. Cineastes, especially those with a fondness for westerns, may be surprised to learn that the sibling writer-directors Joel and Ethan Coen had never seen the 1969 version of True Grit, which won John Wayne his first and only Oscar, prior to starting work on the film. Nor did they watch it any point during the production process. (They still claim to have not seen it, in fact.) Instead, they went directly to the source material – Charles Portis' acclaimed novel – and adapted it for the screen themselves. Audacious? Perhaps. But ignoring the original film allowed the Coens to maintain a certain purity of vision, one which reflected the filmmakers' unique sensibilities while adhering faithfully to the spirit of Portis' novel. In every sense of the phrase, their story of spirited 14-year-old Mattie Ross partnering with curmudgeonly sheriff Reuben "Rooster" Cogburn to avenge the murder of her father merits the label "A Coen Brothers Film." Theirs is a mythic western that steers clear of nostalgia and sentiment but also avoids the self-conscious "grittiness" of recent revisionist works like Deadwood, which used the word "cocksucker" as if it owned the copyright. It is an instant classic.
But it might not have happened if the filmmakers hadn't discovered Hailee Steinfeld, who plays Mattie, at the tail-end of an exhaustive casting search that saw them nearly give up and pull the plug on the film. In all likelihood, Steinfeld will earn an Oscar nomination for what was her first feature-film role. Not a bad debut. -Thomas Leupp
It's hard to empathize with royalty – especially English royalty. Us regular folk have enough problems on our hands to spare much concern for the travails of Lord and Lady Douchebag. Here then, is the principal triumph of Tom Hooper's superb The King's Speech: Not only does it humanize King George VI, the stammering sovereign who overcame his crippling speech impediment to rally benighted Britain on the eve of World War II, it lionizes him.
Actors portraying historical figures – especially recent ones – will always have an edge come Oscar time, not least because history provides a reliable, straightforward standard to judge their performance against. But Colin Firth's portrayal of George, branded with the belittling nickname "Bertie" by his fellow-nobles, goes well beyond mere mimicry. It renders fully-fleshed a frightfully shy and insecure monarch shoved into the spotlight by destiny, who never aspired to lead but was bound by honor and patriotism to do so. The Best Actor Oscar is Firth's to lose.
The UK is always good for at least one Oscar-baiting historical costume drama each year, and if you've avoided King's Speech after being burned by stuffy bores like The Duchess, I can hardly blame you for it. But know that you'll be missing out on one of the more inspiring and triumphant films to grace theaters in quite some time. -Thomas Leupp
4. Black Swan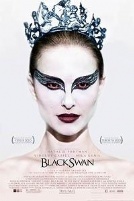 Black Swan may have garnered buzz for a few reasons that only account for a fraction of the film itself – lesbian sex scenes and extreme weight loss – when it finally hit the screen, I wasn't the only one who was happy to see Darren Aronofsky's movie in the spotlight. The film combines the fantastic beauty and grace of the ballet world with its prickly psychological underbelly and a slew of horror tropes. Upon first word of Aronofsy's undertaking, it seemed like he may have bitten off more than he could chew, but like the dizzying and destructive interplay of the Black Swan and The Swan Queen in the ballet at the heart of the film, these elements dance together onscreen.
Besides being a fantastic, thrilling film, it also ushers in a new era of dance on film. Many films before Black Swan have attempted to bring dance to the screen, but most eschew quality plot, writing, directing, and other necessary elements for a weak storyline that does little but allow for more scenes of mind-blowing dance set to catchy music. Aronofsky's latest masterpiece truly uses dance to create a beautiful film, lending the cadence of the classic ballet, Swan Lake, to his storytelling and allowing the audience to waltz through prima ballerina Nina's breakdown (brilliantly portrayed by Natalie Portman). He allows the drama of the dance itself to permeate the entire story, so that the story feeds off the dance and the dance gains greater depth from the story, creating a true marriage of both arts on the screen. -Kelsea Stahler
3. Inception
Christopher Nolan is one of the most brilliant, diverse filmmakers working today. Early in his career he made complex, cerebral thrillers that put him on the map critically: Following and Memento. But it wasn't until he was given the reigns to the Batman dynasty that he became a household name.  His latest film, Inception, is an absolute triumph. The plot is multifaceted and deeply enthralling, and the performances are career defining. Leonardo DiCaprio sizzles but the turns from Inception's supporting cast really make it to stand out. Joseph Gordon-Levitt, Tom Hardy and Ellen Page all come into their own and deliver on the highest level.
The cinematography is breathtaking and foster action sequences so unique that it becomes impossible to take your eyes off the screen; allowing for Inception's two-and-a-half hour runtime to never run stale. The spinning hallway sequence is astounding; playing with perspective in a gorgeously acrobatic display of visual adeptness. The siege on the frozen fortress, while far more conventional than the hallway scene, is nevertheless exciting and gives Hardy yet another chance to shine as he takes down a whole platoon single-handedly.
Inception is the perfect bridge between the brainy thrillers of Nolan's early career and the eloquent yet crowd pleasing action films of his Batman era. It has all the intelligence and complexity of Memento while also being fit to stand aside the best action films of the year. The ending of Inception is a delectable riddle that perfectly brings the proceedings to a head while also demonstrating trust in the audience to draw the appropriate conclusion without it being spelled out for them. -Brian Salisbury
2. Toy Story 3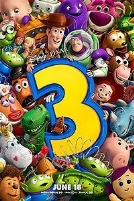 In an ideal world, children would be innocent. Their lives would be full of big trees, swing sets, and fireflies. They'd spend their days creating worlds with their toys, giving them life, each with their own personality, each making their own adventures. But unfortunately, we don't live in an ideal world. Not everyone gets to have that cliche childhood full of wonder. But yet, weirdly enough, even if we never experienced what it was like to create epic battles in the bathtub, there's some magical connection everyone feels to those classic, almost cinematic, moments. Enter, Toy Story 3.
In this tremendous animated film, Pixar successfully illustrates some of the most challenging themes in cinema — love, loss, growth, and rebirth — all through the eyes of toys. Woody and Buzz, plus all the other characters we've grown to love over the years, must deal with reality: the one person they love most in this world is leaving. They no longer feel needed or, perhaps more accurately, like they have a purpose. Through the stunning direction of Lee Unkrich, we see these characters move through each challenge, sometimes gracefully, and sometimes not. But the most important thing is that, somehow, no matter what, they make it. And in that is a lesson for all of us, regardless of age, regardless of childhood, regardless of anything. Things happen. Life moves on. And you know what? That's okay. It really is. -Eric Sundermann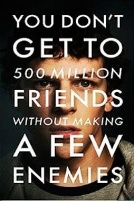 While most films take years to develop, produce and release, The Social Network is a story born in and of the digital age. When Ben Mezrich's acclaimed novel "The Accidental Billionaire's" burned up the best-seller charts, a big-screen adaptation was destined to follow. Its success, however, was almost as unpredictable as that of Facebook itself because many (myself included) were initially skeptical about a "Facebook movie." That was before the haunting trailer hit the internet and immediately showed the world that the origin of the massive digital domain was a complex and layered tale worthy of our attention – and that of the film's extraordinary cast and crew.
Aaron Sorkin's scathing script, David Fincher's decisive direction, Trent Reznor's ominous score and Jesse Eisenberg's indisputable portrayal of Facebook co-founder Mark Zuckerberg are all invaluable elements of the film, but their collision was the cinematic equivalent of The Big Bang. Rarely can a movie be both specific and universal in its themes, but The Social Network is at once about a band of misfit geniuses who stumbled upon fame and fortune and an entire generation of young adults reaching for its piece of the American Dream – and one another. -Daniel Hubschman
Honorable Mentions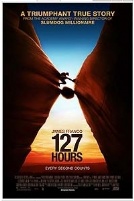 The story is almost too cinematic to be true, a no-brainer recipient of big-screen "treatment" if ever there was one. But that doesn't mean Danny Boyle had an easy task. On the contrary, the task — keeping hard-to-excite audiences interested in what is, at its core, a long, monotonous story whose climax, awesomely gruesome though it may be, most people already know — was difficult. That's probably what attracted the Oscar-winning director to the project in the first place, and it probably also helped him excel. 127 Hours is unmistakably Boyle-y, with its nifty camera work, energy and theme (man vs. a boulder, literally and figuratively). But he is at his best during the solitary moments that comprise most of the movie, somehow managing to keep the proceedings riveting while not abandoning the quiet, natural terror of the incident at hand. It's pretty tough to think of another director capable of striking such a balance.
Then there's James Franco, who turns in precisely the type of performance you'd expect him to, one that not many, if any, of his peers could pull off (only Christian Bale comes to mind). A few costars bookend the movie, but for the balance of it, Franco is by his lonesome, replicating the visceral reaction and descent the real-life Aron Ralston experienced. It's a role that forces an actor to throw vanity to the wind, and as Franco has shown time and again, such roles are the ones to which he is most attracted. The result is quite possibly the year's best performance and, more importantly, the most integral ingredient of a wholly credible, altogether superb movie. -Brian Marder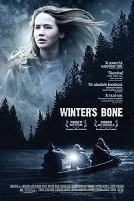 Winter's Bone perfectly captures the bleak misery of the meth-addicted Ozarks with Jennifer Lawrence's stunning performance. Dark and haunting, she may ultimately lose out to Natalie Portman's shocking turn in Black Swan, but there was no greater transformation this year in cinema than Lawrence's. -Sam Morgan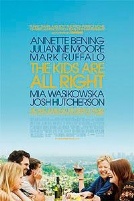 Deemed "the best comedy about an American family" since anything by the New York Times, The Kids Are All Right had lesbian couple Annette Bening and Julianne Moore dealing with their daughter, played by Mia Wasikowska, going to college and her efforts to get to know her biological father, Mark Ruffalo, despite their disapproval. But these seemingly normal events are superseded by the sudden decay of Bening and Moore's relationship due to their basic differences in occupation and personality traits that have only recently become bothersome. And even though the title suggests the primary focus of the movie would be about Wasikowska and her brother, played by Josh Hutcherson, the most compelling and wonderful and realistic performances come from their two mothers' exchanges, which therefore makes them the basis of the film.
The downfall of Bening and Moore's union is almost poetic in that they've been together for so long, but then something subtle happens which onsets their rapid descent so quickly and furiously that the reason for its onset is forgotten. The easiest thing to pin it on was Ruffalo's sudden interest in and insertion into what could technically be considered as "his" family, (as he donated the sperm that was used to conceive both children), but Bening maintained that since she put in all the grunt work to build the family, his unexpected presence and pride in his children's successes is unfair. And when Moore's character isn't as upset by Ruffalo's involvement in the family as Bening is, the rift is widened.  
The Kids Are All Right is the kind of movie that turns out to be something that you didn't think it was, which is something sentimental and soft and emotional. It studies the complexities of relationships in an artful way, and it makes you feel like the family at stake could one day be your own. -Hannah Lawrence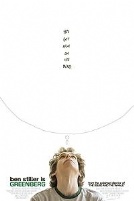 If it'd been released during Oscar season instead of the wasteland that is spring, Greenberg might've garnered the attention it deserved. Either way, Noah Baumbach's funny, poignant meditation on midlife — both its crises and ennui — is fascinating to watch. And while Baumbach deserves credit for his usual droll, hyperliterate sensibilities, the movie would really suffer without Ben Stiller in the title role. Taking a welcome breather from broad comedy, Stiller reminds us that he has depth as an actor, and the performance he gives — at times sad and others somewhat self-parodying — is nothing short of amazing. It greatly helps offset Baumbach's tendency to make his movies feel exclusive and unrelatable. -Brian Marder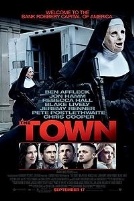 In The Town, Ben Affleck plays Doug MacRay, a bank robber who fights to stay one step ahead of everybody: the FBI who wants to lock him up for his career in heisting, the woman (Claire, played by Rebecca Hall) he met during a bank robbery and subsequently fell in love with (who also doesn't know he was the one who took her as his hostage), and his fellow bank-robbing friends who want to kill Claire because her involvement with Doug could bring down the whole group. Doug is at the center of everything bad, but he's a character that interestingly enough, still manages to be the good guy.
Aside from the movie's basis in one man's conflict of interest, it's noted for being Affleck's second shot at directing, and like many other movies this year, for taking place in Boston. Outstanding performances were delivered by Jeremy Renner, who played a member of Affleck's crew, Hall, and particularly Affleck, who also wrote the screenplay. -Hannah Lawrence
Check out Our Top Films of 2011!
---
You Might Also Like:


15 Oscar-Winning Nude Scenes


Topanga's Revealing Lingerie Shoot: Hello '90s!