'The Toxic Avenger' Will Return!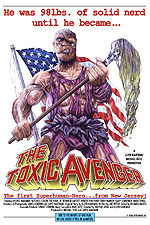 Source: Deadline New York
The remake craze continues! Deadline New York reports that Original Media has acquired franchise rights to The Toxic Avenger. Akiva Goldsman, Richard Saperstein and Charlie Corwin will produce a remake of the 1984 original, which was a staple of schlock cinema that attained a rabid cult following.
The film is set in Tromaville, New Jersey – a small American town, terrorized by criminals. Among the residents of Tromaville is Melvin, a nerdy emaciated janitor at the local health club. A gang of thugs devise a cruel hoax that goes horribly wrong as Melvin is cast through a third story window into a vat of hazardous toxic waste. However, an unexpected metamorphosis takes place. As the chemicals take hold of his body, Melvin turns into the Toxic Avenger, doer of good, and brutal mauler of evil.
The report states that Original Media gains rights to films, animated series and comic books and the company will finance development of the feature's script. On the direction and tone of the film, Deadline says that "the group intends to turn Toxie into a green superhero for these environmentally conscious times." The remake is expected to be a family friendly PG-13 action comedy".