'The Twilight Saga: Breaking Dawn' is Poised for a Huge Debut!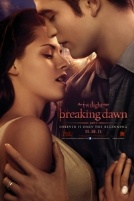 Take a cup of Romeo and Juliet, a tablespoon of West Side Story, a dash of Dark Shadows, a sprinkling of Beverly Hills 90210 and a bucketful of teen angst and you have The Twilight Saga.
With close to $1.8 billion in worldwide box office, the second biggest single-day gross ($72.7M – New Moon), the third biggest single-day gross ($68.5 million – Eclipse), the fourth biggest weekend opening ever ($142.8M – New Moon) and a level of anticipation nearly unrivaled in the world of film, you have all the proof you need that the hunger for vampires and werewolves is very much alive and well in the 21st century.
Based on the massively successful novels by Stephanie Meyer, the Twilight series struck a major chord with teens all over the world and was perfectly positioned for big screen treatment. Casting for the first film was vital to the franchise's enduring popularity and the choice of Kristen Stewart as brooding teen Bella Swan and Robert Pattinson as the charismatic and sensitive Edward Cullen was a match made in movie heaven. The two instantly became the "it" couple and Pattinson became a teen idol almost overnight as teen girls seemingly devoted their every waking hour to information about the star in magazines and on fan sites around the world. Taylor Lautner as the werewolf Jacob (and Edward's blood enemy) would become a bigger factor with audiences (and a teen heartthrob) as the series progressed and his role expanded.
On Friday, November 21, 2008 Summit Entertainment unleashed the first film, simply titled Twilight, on the world and it debuted to huge box office numbers and left analysts and journalists scratching their heads. With no real reference point, speculation was all over the place as to how the film might open. $69.6 million gave the film a number one debut and showed that teen girls could rule the box office if they rallied behind a film and that their increasing clout at the ticket window was no longer in question. Nearly $400 million in worldwide box office by the time it closed theatrically, it was a foregone conclusion that the second novel would be made into a film and give the franchise its first sequel. Directed by Catherine Hardwicke the first film achieved huge success, but her tenure as director was over and Chris Weitz (About a Boy, The Golden Compass) was brought in to direct the second installment and the box office results would be breathtaking.
A double-take was in order as The Twilight Saga: New Moon posted a single-day gross of $72.7 million. The date was Friday, November 20, 2009 and after an astonishing and at the time record-breaking $26.3 million in midnight screenings, the film obliterated all existing single-day records and made believers out of those that may have thought the success of the first film was a fluke. Saturday was no slouch either, with a whopping $42.3 million in domestic revenue and a Sunday that added another $27.8 million. The final weekend tally was $142,839,137; at that time the third biggest opening weekend in history and the biggest non-summer debut ever! The worldwide weekend figure was equally impressive with $260.9 million with the final global total reaching $709.7 million. The love triangle hinted at in the first film was brought to the forefront as Taylor Lautner and his newly-found (and cinematically exploited) six-pack may have been responsible for countless millions in additional box office revenue.
Of course this meant that the third film would be put on the fast track with only seven months separating the two (as opposed to the full-year between Twilight and New Moon).  Eclipse would now become a full-fledged summer tentpole and another director change seemingly invigorated the franchise with David Slade (Hard Candy, 30 Days of Night and Stone Temple Pilots video for "Sour Girl") at the helm.  The Twilight Saga: Eclipse boasted more action, pathos and humor than the other films and therefore was another huge hit with audiences. With a then-record $30 million plus in midnight screenings, the film debuted on Wednesday, June 30 2010 with the then-second biggest single-day gross of all-time of $68.5 million (2011's Harry Potter 7, Part 2 and its record breaking single-day of $91.07 million has shifted this now to third place). The film then earned $64.8 million for the F-S-S weekend period and a whopping $176.4 million in its first six days of release and ultimately $693.4 million in global box office.
The Twilight Saga has already established itself as one of the most successful movie franchises in box office history and when Breaking Dawn, Part 1 opens at 12:01 a.m. on Friday, November 18, that reputation should be further solidified with an opening weekend well in excess of $100 million, huge lines of fans, more press reports of fan fever and massive box-office numbers. All that and then we have Breaking Dawn , Part 2 to look forward to when it opens in about a year on November 16, 2012.