'The Twilight Saga: Breaking Dawn – Part 2': Box Office Overview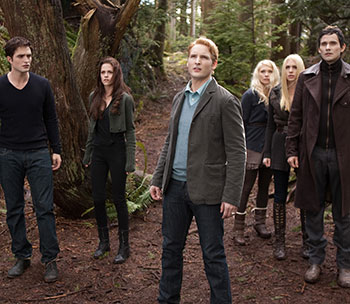 The Twilight Saga: Breaking Dawn – Part 2 easily led the pack this past weekend and although it opened with less than the $150 million debut many analysts were expecting, it is still a monumental achievement at $141,067,634. Even more impressive is the global opening weekend of $340.5 million (N. America $141.1 million + $199.4 million internationally in 61 territories)!
Summit Entertainment and Lionsgate mounted a solid marketing campaign and the target audience of teen girls was once again worked into a frenzy to see the film. Many (including yours truly) had predicted a $150 million opening weekend based on the idea that the final installment of Twilight would play like the final installment of Harry Potter and post a franchise best debut ahead of the $142.8 million debut of New Moon. However, there is no shame in posting the 8th biggest opening weekend in box office history and solidifying the franchise's reputation as one of the most consistently performing in cinematic history.
While 40 year-old male critics may have not understood the appeal of this romantic metaphysical melodrama, millions of teen girls (and their moms and a fair share of young males) have put the Twilight franchise forever in the pantheon of the great box office franchises. In light of this we first breakdown the opening weekend box office data and then present some exclusive Facebook data.
The following Box Office data is courtesy of Summit Entertainment (A Liionsgate Company):
DOMESTIC WEEKEND BREAKDOWN
Friday – $71,167,839
Saturday – $41,443,147
Sunday – $28,456,648
3 day total $141,067,634
Locations – 4,070
Location Avg – $34,660
DOMESTIC MILESTONES
Breaking Dawn 2 posted the second highest weekend opening of the Twilight franchise behind NEW MOON at 142.8 million
Breaking Dawn 2 is the 8th largest Opening of all time
The Twilight franchise has 3 of the top 9 openings of all time
First time ever that a studio has opened two films to over $125 million in the same year (Breaking Dawn 2 and The Hunger Games)
DOMESTIC EXIT POLL DATA
Highest ratings & recommendations of any Twilight Saga film
"A" CinemaScore ("A+" among under 25)
"Excellent" ratings 30 points above norm
Above norm for all ages & both genders
40 points above norm for young females
30 points above norm for older females
20 points above norm for young males
10 points above norm for older males
89% "Top Two Box" (20 points above norm), 78% Definite Recommend (20 points above norm) – again above norms with both genders and all ages
Highest "Excellent" and "Definite Recommends" for males of any Twilight film
50% under 25, 50% over 25
79% female, 21% male – the highest % of males of any Twilight franchise
INTERNATIONAL
Internationally Breaking Dawn – Part 2 opened to $199.6 million with the film opening to virtually the number one slot in every market. Additional highlights include:
United Kingdom: Once again the UK remains the top territory for the opening of Breaking Dawn – Part 2
Spain: Breaking Dawn – Part 1 is the Top grossing 3-day weekend film of all time
Latin America: The performance was incredible and delivered $43 million which is 57% above the opening of BD1, and already is more than ½ the box office for the entire engagement of Breaking Dawn – Part 1
France: France came in with a huge $2 million admissions on opening weekend; best opening weekend of the year, surpassing La vérité si je mens 3 – 1,660,445 admissions; 2nd best opening for franchise (behind New Moon)
Australia: Continues to be one of the top markets for the franchise bringing in $12.7 million
Scandinavia: Scandinavia delivered $9.8 million on opening weekend; $3.9 million from Sweden alone
Denmark: 7th best 4-day opening of all time
Finland: #2 opening of 2012
Sweden: Biggest opening of 2012
Norway: #4 opening of 2012
Benelux: Benelux brought in $5.2 million on opening weekend
Netherlands: Franchise record and 3rd best opening for 2012
Overall internationally the grossed an estimated $3 million in IMAX from 82 locations (NOTE: this gross is factored into the overall estimate above)
Recently, Hollywood.com has been reporting data courtesy of Facebook and we thought that data about Twilight (as one of the most talked about movies on the social networking platform, would be of interest):
FACEBOOK
Most Mentioned Items
Ranked by volume of mentions of the movie; the actors; and the characters over the last month
1) Twilight/Breaking Dawn2) Taylor Lautner
3) Robert Pattinson
4) Kristen Stewart
5) Edward Cullen / Team Edward
6) Jacob Black / Team Jacob
7) Bella Swan
8) Ashley Greene
TWILIGHT Talk Meter
Even before the film was released it was already trending at a 4.21 – which is pretty solid, considering there had not yet been an "event" for this at that point (i.e. release weekend).
TWILIGHT Overall
Female groups buzzing the most: women 18-24; women 25-34; and women 13-17
Male groups buzzing the most: men 25-34; men 18-24; and men 13-17
Top states buzzing about Twilight: Utah, Arizona, Iowa, North Dakota, California, Nebraska, New Mexico, South Dakota, West Virginia, Texas
Internationally, top countries buzzing about Twilight: France, UK, New Zealand, Canada, Australia, Philippines, Sweden, Denmark, Italy, Germany
Kristen Stewart
Buzzing the most with women 25-34.
Top states are Wisconsin, Iowa, Rhode Island, New York and Massachusetts.
Robert Pattinson
Buzzing the most with women 13-24.
Top states are New Jersey, Massachusetts, South Carolina, Maryland and California.
Taylor Lautner
Buzzing the most with women 25-34.
Top states are Hawaii, Connecticut, Oklahoma, Arizona and Nebraska.
Twilight Saga Page Growth
In the last week alone, 184,000 people "liked" the Twilight Saga page
In the last month, 638,000 new likes
TWILIGHT SAGA DEMOGRAPHICS
Gender
78% female
22% male
Age
29% – 13-17
45% – 18-24
17% – 25-34
Pages Also Liked by Fans
Pages that fans Twilight-related pages are more likely to like than the average FB user.
Pages fans of Twilight Saga are more likely to like
1) Taylor Lautner
2) The Vampire Diaries
3) Taylor Swift
4) Justin Bieber
5) Gossip Girl
6) Jonas Brothers
7) Miley Cyrus
8) Grey's Anatomy
9) Glee
10) Selena Gomez
[Photo Credit: Summit Entertainment]
More:
'Twilight' Cast Give Edward and Bella Marriage Advice at the 'Breaking Dawn' Premiere — VIDEO
A Day in the Life of a Twihard
'Twilight': The Twilight Years
From Our Partners:

'Twilight: Breaking Dawn 2' Scores a HUGE Win (Moviefone)

Best (and Worst!) Movie Plot Twists Ever
(Moviefone)