'The Twilight Saga: Breaking Dawn – Part 2' Is Box Office Gold with $141.3 Million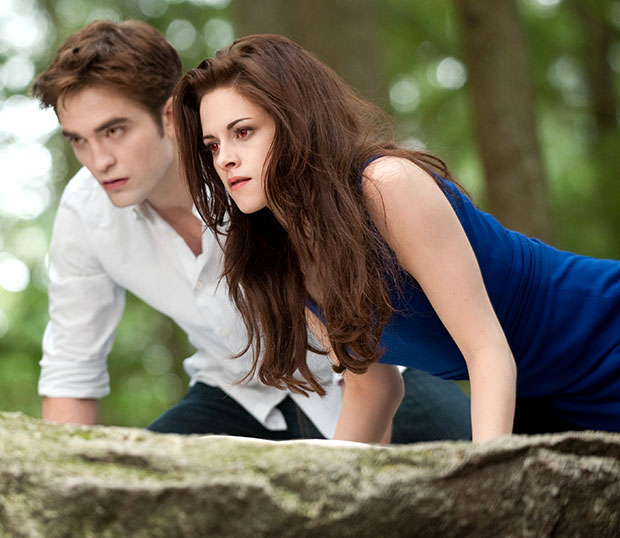 Sorry James Bond. Vampires and werewolves are the declared winners of this weekend's box office race. The Twilight Saga: Breaking Dawn – Part 2 has come out on top, scoring $141.3 million its first weekend at the box office. This may not come as a shocker, though, as the final Twilight film brought in an impressive $162.2 million at the global box office on its opening day. And in the United States, it earned $71.2 million (that includes $30.4 million for all Thursday shows starting at 10 PM and midnight shows).
It is a huge debut for the film and the eighth biggest opening weekend of all-time! Overall, the worldwide estimate for the film is $340.9 million ($141.3 million in North American + $199.6 million internationally). Breaking Dawn – Part 2 posted the second highest weekend opening out of theTwilight franchise behind New Moon at $142.8 million, and the franchise now has three of the top nine openings of all time.
But it doesn't end there. Breaking Dawn – Part 2 pushed Lionsgate's 2012 domestic gross over the $1 billion mark for the first time. And Lionsgate has become only the seventh company to ever cross the billion dollar plateau. Also, Lionsgate is the first company to ever have two films (Breaking Dawn – Part 2 and The Hunger Games) open to over $125 million in the same year.
Second in the race, we find Daniel Craig's James Bond flick Skyfall, raking in $41.5 million in its second week. That's a total of $161.337 million to date. Skyfall has also earned about $39 million in IMAX theaters globally. This weekend, Skyfall, the 23rd James Bond adventure, also became the best-performing film of all time in the longest-running film franchise in motion picture history, with a global average of $669.2 million and passing the $599.2 million worldwide total taken in by Casino Royale in 2006.
The box office success of Skyfall has helped to push Sony Pictures Entertainment to its biggest year ever at the global box office, surpassing $4 billion worldwide for the first time in its history and besting the studio's previous high $3.585 billion, set in 2009.
In third, comes Lincoln. In its first wide expansion into theaters in its second week, it earned $21 million and totally benefited from the platform release strategy and huge Oscar buzz.
Here is the official breakdown of the top five grossing films of the weekend.
1. The Twilight Saga: Breaking Dawn – Part 2: $141.3 million
2. Skyfall: $41.5 million; $161.337 million total
3. Lincoln: $21 million; $21.42 million total
4. Wreck-It Ralph: $18.31 million; $121.48 million total
5. Flight: $8.6 million; $61.34 million
[Photo Credit: Summit Entertainment]
More:
'Breaking Dawn – Part 2' Has a Big First Day at the Box Office
'Twilight': The 'Twilight' Years
Man Charged with Plotting 'Twilight' Shooting
From Our Partners:

'Twilight' Saga's Most Underrated Characters (PICS) (Moviefone)

Best (and Worst!) Movie Plot Twists Ever
(Moviefone)