The Ultimate Top 10 Movies of 2012 List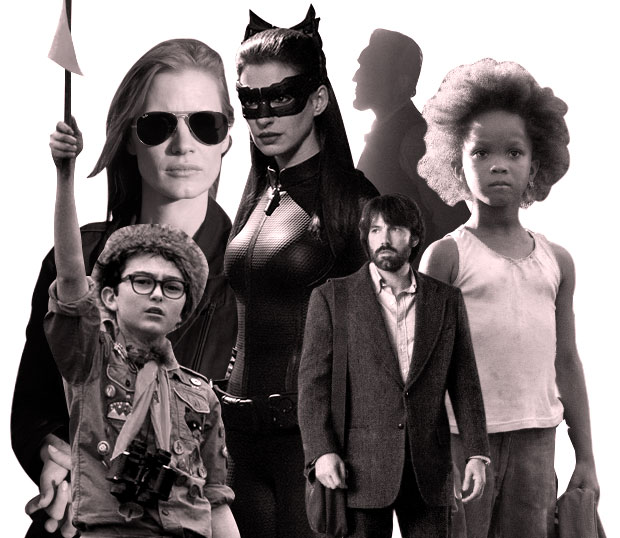 It's that time of year where everyone is making their lists and checking them twice. Not just Santa, but every film critic – from the film editor of the Walla Walla Picayune and Register to the tween who runs ILikeMoviesSoMuchICouldPuke.tumblr.com – who feels the need to express his or her opinions about the Top 10 Movies of 2012. Everyone thinks they have the final word on taste, but so few of them agree with one another. With the entries on these lists landing all over the place, how do we determine what the best flicks are? Well, we ask every damn critic and figure out where they agree. Yes, this is the Ultimate Top 10 Movies of 2012 List comprised only using lists other critics made.
I took 53 different lists from sources as varied as the New York Times to MySpace (yes, they apparently have someone writing for that treasure trove of embarrassing high school pictures we can't figure out how to take down) and tallied them all up. For each list, the top movie got 10 points, the second best movie got nine points, and so on down the line. For wimps who just listed their top movies alphabetically, each film got three points, because I'm not rewarding those jerks who can't make up their minds. All those points were added up, and those with the highest points win! Well, I included everyone, so there aren't any real losers except for those that didn't make the list at all.
Only lists for movies in general were included, so there's no genre fare like the 10 Best Action Movies, the 5 Scariest Horror Movies, or The 11 Best Joseph Gordon-Levitt Movies That Came Out in August. If there were more than 10 movies on any list, movies 10-20 (or 10-33 if you're the slideshow-happy Huffington Post) were ignored. If you can't narrow it down to 10, then you're just doing the world a disservice. And I only included lists that were actually, you know, a list. Yes, David Denby of The New Yorker, I get that you're so much smarter than the rest of us that you can't be bothered to enumerate your enormous insight into the annual state of the cinema, but reading the whole damn article was just not conducive for my little experiment.
Without further ado, here are the Scientifically Indisputable Top 10 Movies of 2012
1. Zero Dark Thirty: 291
2. The Master: 202
3. Argo: 170
4. Amour: 152
5. Beasts of the Southern Wild: 132
6. Lincoln: 156
7. Moonrise Kingdom: 152
8. Silver Linings Playbook: 109
9. Holy Motors: 104
10. The Dark Knight Rises: 74
Most of these weren't surprises. Zero Dark Thirty was on practically every list I surveyed. For every list Amour or Holy Motors wasn't on, it was in the top spot on another list, thus driving these obscurities up the rankings. The only surprise in the Top 10, really, is The Dark Knight Rises, which jumped into the final slot thanks to prominent placement on several lists, including ones that seemed to favor those that were commercially successful rather than the critics' darlings.
The surprises were really in the films that didn't do better. I was shocked that early favorites like The Sessions didn't get more attention, and documentaries like Queen of Versailles or How to Survive a Plague didn't fare better. Many lists filled their final slot with either a documentary or a foreign film to let the reader know how cultured they are and don't just like popcorn munchers. Either that, or it's a kid's movie to show just how wide and varied their idea of quality is, going beyond weird indies that people lie about seeing at cocktail parties. The most popular cartoons were ParaNorman and Frankenweenie. The latter only got a score of nine but it was probably on as many lists as anything else. The 10th spot doesn't do anyone any favors.
Here are the rest of the movies I found on my adventure.
This Is Not a Film: 70
Life of Pi: 71
The Avengers: 63
Skyfall: 61
Django Unchained: 56
Looper: 40
Cabin in the Woods: 35
The Lonliest Planet: 35
Les Miz: 33
Perks of Being a Wall Flower: 28
Bernie: 27
The Deep Blue Sea: 26
Anna Karenina: 25
Once Upon a Time in Anatolia: 22
Killing Them Softly: 21
Searching for Sugar Man: 20
Rust and Bone: 19
21 Jump Street: 18
Sessions: 18
Ted: 18
The Gatekeepers: 17
The Hunger Games: 17
Magic Mike: 17
Oslo, August 31: 17
Seven Psychopaths: 16
Flight: 15
The Grey: 15
ParaNorman: 15
End of Watch: 14
How to Survive a Plauge: 13
The Imposter: 13
Cloud Atlas: 11
Compliance: 11
The Kid with a Bike: 11
Margaret: 11
Pitch Perfect: 11
The Raid: Redemption: 11
The Turin Horse: 11
Footnote: 10
The Impossible: 10
Killer Joe: 10
The Amazing Spider-Man: 9
Frankenweenie: 9
The House I Live In: 9
Not Fade Away: 9
Tabu: 9
Bestiaire: 8
Goon: 8
Jeff Who Lives at Home: 8
Lawless: 8
Queen of Versailles: 8
Sound of My Voice: 8
Waiting Room: 8
Your Sister's Sister: 8
Attenberg: 7
Chronicle: 7
Dark Horse: 7
Monsieur Lazhar: 7
Oki's Movie: 7
Room 237: 7
The Twilight Saga: Breaking Dawn Part 2: 7
Marina Abramovic: The Artist is Present: 6
Middle of Nowhere: 6
Miss Bala: 6
Take This Waltz: 6
Witness: 6
Ai Wei Wei: 5
Elena: 4
Haywire: 4
The Hobbit: An Unexpected Journey: 4
In the Family: 4
Invisible War: 4
Wreck It Ralph: 4
5 Broken Cameras: 3
Best Exotic Marigold Hotel: 3
Detropia: 3
Dragon: 3
The Dust Bowl: 3
Goodbye First Love: 3
Hitchcock: 3
It's Such a Wonderful Day: 3
John Carter: 3 (stupid Houston Press)
Quartet: 3
Safety Not Guaranteed: 3
A Simple Life: 3
Alps: 2
The Color Wheel: 2
Keep the Lights On: 2
Neighboring Sounds: 2
West of Memphis: 2
Wuthering Heights: 2
Bachelorette: 1
Friends with Kids: 1
Premium Rush: 1
Universal Soldier: Day of Reckoning: 1
Sources (some outlets like AP, New York Times, and EW had more than one list): New York Magazine, LA Times, E! Online, Guardian, Screen Crush, Access Hollywood, Cinema Blend, Time, Village Voice, BuzzFeed, Atlantic Wire, AP, MTV, New Yorker, SF Gate, Brietbart, The Atlantic, Guyism, EW, AV Club, Time Out NY, Film Comment, Arizona Republic, New York Times, Washington Post, Huffington Post, Next Movie, The Movie Minute, NY Post, Slant, HitFix, IndieWire, Total Film, Rolling Stone, AARP, Movieline, San Jose Mercury News, IndieWire, AFI, New Jersey Star Ledger, MySpace, Boston Phoenix, Time Out Chicago: Times Two, Houston Press
MORE: 
The 20 Best Movies of 2012 (and the 5 Worst)
Staff Picks: The 10 Best Books of 2012 (And 5 That Pretty Much Sucked)
The Best and Worst TV Episodes of 2012 — Staff Picks
---
You Might Also Like:


15 Oscar-Winning Nude Scenes


Topanga's Revealing Lingerie Shoot: Hello '90s!