Martin Freeman Owns the Final Second of the 'World's End' Trailer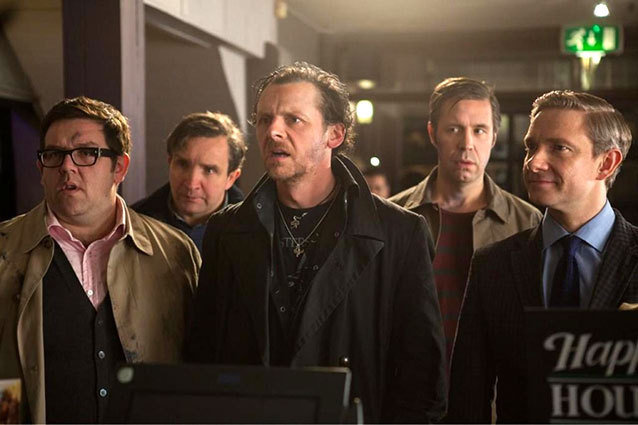 Simon Pegg and Nick Frost earned our attention as comic powerhouses with Shaun of the Dead, a surprisingly adept zombie movie parody that built the margins for their follow-up film Hot Fuzz (which, like Shaun, was directed by Edgar Wright) and has sustained its position as the film most rigidly associated with both actors. Now, a third Wright picture is on its way: The World's End, another humorous, supernatural adventure. Another  union of adult children Pegg and Frost, and an assembly of reluctant supporting characters. Another movie set in a bar. Yes, The world's End looks pretty much exactly like Shaun of the Dead. See for yourself in the new trailer:
And we're not quite sure how big a problem this will be — this time, Pegg and Frost are joined by childhood friends Martin Freeman, Paddy Considine, and Eddie Marsan, in an endeavor to recreate a pub crawl from their younger days, when they happen upon an Invasion Of The Body Snatchers-like plague that is sweeping their liquor-laden route. Soon, survivalism takes over, and they are forced to fend off the monsters while keeping their personal relationships in check. See? Entirely reminiscent of Shaun, right down to the setting and visual aesthetic, as you can see above. But there's something in this one that might separate it from former Pegg/Frost/Wright collaborations: Martin Freeman.
Despite his celebrity as Bilbo Baggins from The Hobbit, the romantic lead Tim in Ricky Gervais' The Office, or the United Kingdom's Sherlock, Freeman is a comic champion whose mastery of subtle physical humor is inexplicably unappreciated. The perfect example of Freeman's whimsical might comes in the final second of the trailer, when his playing-it-cool-in-the-face-of-danger businessman character exits a pub bathroom, surrounded by glowing-eyed monsters, forcing a giddy smile and an enthusiastic head bob. It's utterly hilarious.
So maybe Freeman will be what keeps The World's End from feeling like nothing more than a rehashed Shaun of the Dead. Another vast world saved by the peppy young Bilbo.
Follow Michael Arbeiter on Twitter @MichaelArbeiter
More:
Is Simon Pegg's 'The World's End' Another Alien Invasion Movie?
'It's a Disaster' Review
'This Is the End': Watch Every Comedian You Know Die
---
From Our Partners:


What Happened to 33 Child Stars (Celebuzz)


40 Most Revealing See-Through Red Carpet Looks (Vh1)