'Think Like A Man' Leads Box Office Again!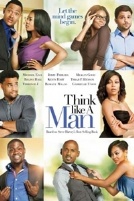 Sony's "Think Like a Man" leads the box office for the second consecutive weekend with $18 million holding off a bevy of newcomers and bringing its 10 day total to $60 million after a much bigger-than-expected debut last weekend. The big screen adaptation of Steve Harvey's best-selling dating book, featuring an eclectic ensemble cast has done very well for Sony's Screen Gems label proving to be very profitable with a mere $12 million negative cost.
The remainder of the top five found themselves in a veritable box office pileup as they all generated grosses in the $11 million range.
Sony also holds the number two spot with the only family-friendly newcomer "The Pirates! Band of Misfits" which earned $11.4 million. The Aardman/Sony Pictures Animation film brought their very unique brand of animation to family audiences and performed the best of the numerous newcomers this weekend.
Warner Bros.' "The Lucky One," last week's No. 2 film, took third place with 11.325 million and close to $40 million after 10 days of release.
Lionsgate's "The Hunger Games," the year's most successful film so far, had another great weekend taking in $11.25 million and crossing the $372 million mark by Sunday night.
Universal's R-rated comedy "The Five-Year Engagement," starring Jason Segel rounded out the top five earning $11.2 million in its debut.
Two other newcomers took the sixth and seventh spots as Lionsgate's "Safe," with Jason Statham earned $7.72 million and Relativity's "The Raven," starring John Cusack with $7.25 million.
Summer kicks into high gear next weekend, when Disney/Marvel opens the superhero extravaganza "The Avengers" at more than 4,000 domestic theaters.
And speaking of which…
MARVEL'S THE AVENGERS (Marvel Studios) began its record-breaking worldwide rollout opening in 39 international territories representing 70% of the international marketplace. The film opens in the U.S. on May 4th.
Estimated international cume through 4/29 is $178.4 MILLION.
International Highlights:
• Biggest opening weekend ever in Mexico, Brazil, Argentina, Ecuador, Peru, Central America, Bolivia, Hong Kong, Taiwan, Malaysia, New Zealand, The Philippines.
• Biggest opening days in New Zealand, Taiwan, Iceland & Malaysia
• Opened #1 in every market.
Key Territories
UK $24.7M
Australia $19.7M
Mexico $15.9M
Korea $12.9M
France $12.7M
Brazil $11.3M
Italy $10.4M
Taiwan $7.7M
Spain $7.3M
Germany $6.7M
Philippines $6.5M
HK $4.6M
Other $38.0M
Total $178.4M
Weekend Box Office (Estimates)
Top Movies for Weekend of April 27, 2012
Movie Weekend Gross Total to Date
1 Think Like a Man (PG13) $18.0M $60.9M
2 Pirates! Band of Misfits (PG) $11.4M $11.4M
3 The Lucky One (PG13) $11.32M $39.9M
4 The Hunger Games (PG13) $11.25M $372.5M
5 Five-Year Engagement (R) $11.2M $11.2M