'This is 40' Director Judd Apatow Plans His Next 'Sort-of Sequel'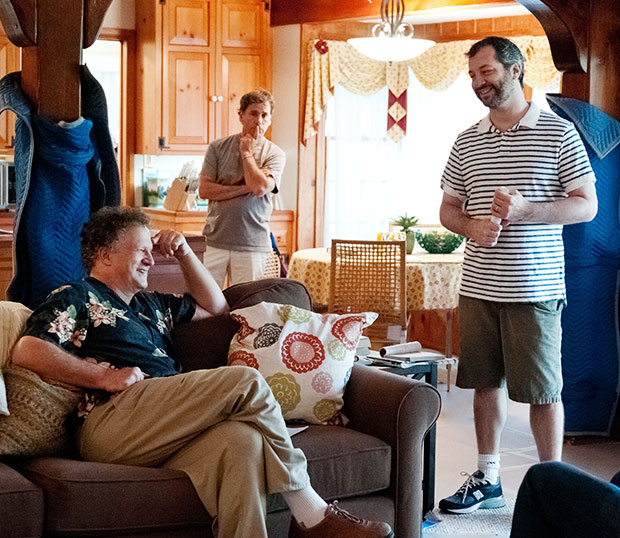 Movie-goers remember This is 40 stars Debbie (Leslie Mann) and Pete (Paul Rudd) as the argument-prone and slightly dysfunctional couple in the 2007 hit Knocked Up. Now, five years later, with many titles and an endless supply of comedic ideas, Judd Apatow (The 40-Year-Old Virgin, Superbad) is gifting fans with a "sort-of sequel" and focusing more deeply on the lives of these two hilarious characters.
However, this is not Apatow's first sort-of sequel, fans were treated to a more in-depth look of Russell Brand's character Aldus Snow in Get him to the Greek after meeting him in Forgetting Sarah Marshall, both of which were produced by Apatow. Hollywood.com recently sat down with the writer/producer/director and asked what other characters Apatow would like to revisit. And fans of Superbad and Pineapple Express now have license to rejoice! Apatow has heard your cries and agrees that revisiting any of those beer-hungry teens or marijuana-loving adults would be a fun new adventure.
The quick-witted Apatow then revealed another sort-of sequel idea: "Or I'd like to know where Dewey Cox is right now. We could do a spin-off about Dewey Cox's wife. Where's Kristen Wiig's character from Walk Hard?" he said.
Check out our full interview with Apatow below to learn more about the history behind the movie's Lost debate, and why the director is encouraging his daughters (and stars of This is 40) Maude and Iris to scream at each other. Plus ever wonder what happened to Knocked Up's Ben and Allison?
You can catch all the hilarity of This is 40 in a theater near you.
Would you like to see a Superbad sort-of-sequel? Happy to know that Ben and Allison have has more kids? Tell us your thoughts in the comments below!
Follow Leanne on Twitter @LeanneAguilera
[Photo Credit: Universal Pictures]
MORE:
Death By Éclair: How Paul Rudd Almost Killed Leslie Mann on 'This is 40'
'This Is 40' Star Paul Rudd on Maude Apatow: '[I'll] Never Be That Good' — EXCLUSIVE
'This Is 40': These People Keep Talking About Their Sex Organs — RED BAND TRAILER
You Might Also Like:

20 Hottest Bikini Bodies of 2012: Megan Fox and More!