'This Is 40' Trailer: Paul Rudd & Leslie Mann Giving 'Knocked Up' a Worthy Sequel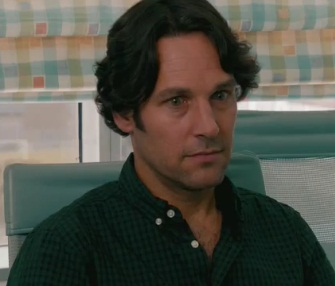 Judd Apatow is growing up. The first memorable feature film that the multi-hyphenate wrote was Heavyweights, about the joys and perils of early adolescence (particularly as an overweight boy). For all of its silliness and cheap laughs, Heavyweights is not too insincere a representation of life at age 12 and 13. Not long after, Apatow gave the world what might well be the most authentic televised depiction of suburban high school life in America, era notwithstanding: Freaks and Geeks. Then came the equally proficient Undeclared, about college life. Most recently, there was Knocked Up, which not only took on the subject matter of unplanned pregnancy, but also captured the visage of twentysomething-hood as well as any recent film has. And now, Apatow hands the world his long-awaited sequel to Knocked Up: This Is 40.
The movie stars Knocked Up supporting characters, married couple Debbie (Leslie Mann) and Pete (Paul Rudd), who are entering their 40s. The trailer kicks off with Debbie pronouncing a list of goals and lifestyle changes that she wants to set forth as a combat to aging. Although this seems at first to be a disappointment to the viewer, suggesting that Apatow might be narrowing the scope of the story by limiting his characters to a specific "bucket list" of sorts, it turns out to be more of a spiritual affirmation on Debbie's part than a literal one. Her only real declaration is that she wants to live her life better. She wants to feel differently, happier. She wants to feel younger. In this, the film looks to be just as Apatow as any of its predecessors. Grand in scope, somewhat vague in plot, but very captive of and true to its topic. And, as with its predecessors, this topic is just another stage of life that everyone can (or will, eventually) relate to.
Check out the trailer, and keep an eye out for other Knocked Up returners, like Jason Segel, Tim Bagley, and the young Maude and Iris Apatow, as well as Bridesmaids stars Melissa McCarthy and Annie Mumolo.
More:
Judd Apatow vs. Howard Stern: Twitter Showdown
Girls Pilot Review: Love at First Sight