'This Is the End': Seth Rogen and James Franco Ride Out the Apocalypse — RED BAND TRAILER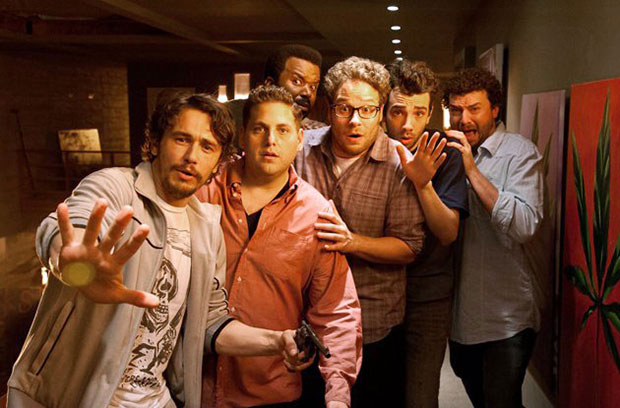 Just in time to get their target demographic of the kind of people who actually believe in the impending apocalypse psyched for the impending apocalypse, first time director Seth Rogen releases a trailer for his forthcoming comedy film This Is the End, which is about the impending apocalypse. Introducing the red band trailer are the film's stars, Rogen and James Franco, holed up in a bunker for perpetuity, charged with discussing the "finer things in life." Following the pair's foul-mouthed foray into the Armageddon, we see the first footage of the long gestating project.
Rogen and Franco, teamed with real life pals (all playing themselves) Jay Baruchel, Jonah Hill, Craig Robinson, and an oblivious and antagonistic Danny McBride, awake the morning after the end of the world, discussing the travesties to have befallen their planet mere hours earlier, and taking jabs at one another (and an absent Michael Cera). Check out the trailer below, and catch This Is the End (previously titled The End of the World, and before that The Apocalypse, and before that Jay and Seth vs. the Apocalypse) in theaters in the summer of 2013.
[Photo Credit: Sony Pictures]
More:
2012: The Year in Apocalyptic Movies, TV, and Books
'The Heat' Red Band Trailer: Melissa McCarthy Goes Nuts While Things Explode
'This Is 40': Judd Apatow on Staying Relevant and P.T. Anderson's Love of 'Heavyweights'
You Might Also Like:

20 Hottest Bikini Bodies of 2012: Megan Fox and More!