This 'Lethal Weapon' Reboot Is Really Happening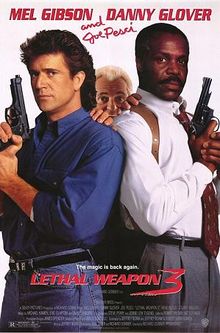 Well, it looks like Warner Bros won't be wasting any time in pushing this Lethal Weapon reboot to market. Just hours after we reported that a handful of buried reboot properties had been unearthed in the wake of studio exec Jessica Goodman's departure, Deadline has revealed that Warner Bros has begun moving ahead on its new Lethal Weapon franchise.
Warner Bros' Joel Silver has set former police officer-turned-writer Will Beall, who recently wrote the Black List-winning Tales from the Gangster Squad, to pen the new Lethal Weapon script. Now the studio just needs to find two new leading men whose chemistry can rival that of Mel Gibson and Danny Glover, who, even if they were available, would be impossible to cast given Gibson's recent "image problems."
Shia and Tim Meadows? Jeremy Renner and Morgan Freeman? All hilarious white man and slightly-older black man pairings are welcome in the comments section.
Source: Deadline