'This Means War' Trailer: Pine, Witherspoon and Hardy's Action Romantic Spy Comedy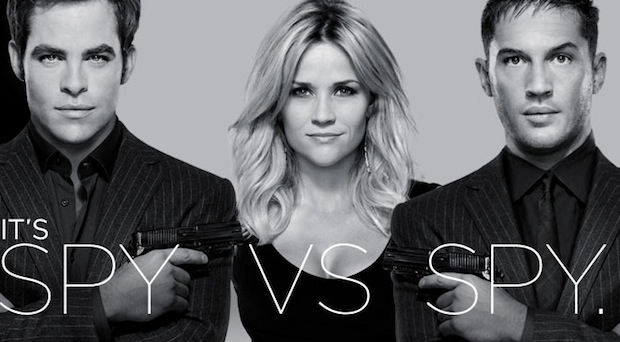 I'm not sure we'll ever see a big-screen version of McG's TV show Chuck (heck, I'm surprised we even got more than one season) but the Charlie's Angels director has is prepared to give fans of the spy/romance/action/comedy genre the next best thing: This Means War.
The movie stars Chris Pine (Star Trek) and Tom Hardy (Inception) as two CIA agents with the skills to fire guns accurately and kick bad guys off roofs. They're professional badasses, but even super spies can lose their cool. The two agents find themselves pitted against one another when they discover their both romancing the same woman, Reese Witherspoon. Logically, this causes them to butt heads (which, if you're a spy, means ruin the other person's life with fancy technology).
The first trailer for the movie has premiered and it's a bit underwhelming. You have three of the biggest, likable stars on the planet under the direction of a guy who knows his way around goofy action premises (I can't deny my love for the insanity of the Angels movies), but the final product looks flat has heck. But that's a trailer for you—who knows what surprises could be tucked under the surface of This Means War. Hopefully something wittier than being shot in the groin with a paintball.
This Means War hits theaters February 17, 2012.