'The Hunt' Director Thomas Vinterberg on What Makes His Movie 'Incredibly Danish'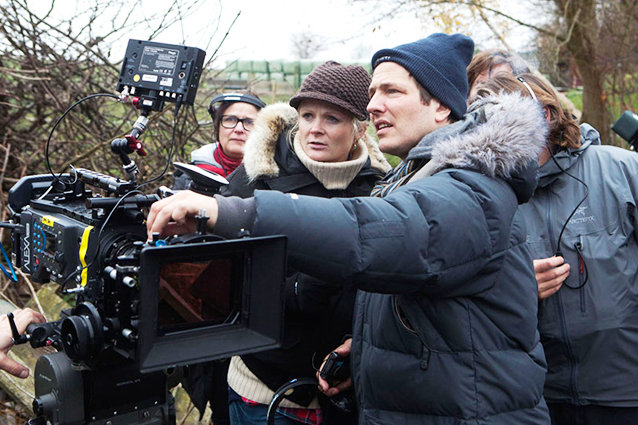 Thomas Vinterberg, writer and director of 1998's acclaimed film The Celebration, returns to push the bounds of human empathy with The Hunt. Starring Mads Mikkelsen as Lucas, a kindergarten teacher wrongly accused of molesting a young student, The Hunt is a fascinating, frustrating, and enlightening look at what happens when gossip and finger-pointing overshadow the truth. 
Vinterberg tells Hollywood.com that the idea for the film was born when a particularly insistent psychiatrist "came knocking at my door." Vinterberg says, "I had just moved into this posh neighborhood and he said, 'You did The Celebration, then there's another film you you have to do.' And I said thank you and good evening." 
It wasn't for another five or six years that Vinterberg – in search of a psychiatrist himself — read the files the psychiatrist dropped on his doorstep. "I was shocked by it," Vinterberg said of the myriad cases involving accusations of sexual abuse. "And, unfortunately, there's a huge pond of these cases in this country and they're all even more horrifying than anything in my movie … I never do films for moral reasons, but here I slightly felt a moral obligation towards the kids that are being violated by these kind of cases. You must imagine being a child, being interrogated, being sent to the gynecologist, seeing your mother cry, seeing someone you really like go to prison, ending up with this false illusion that you're a victim, ending up believing it. I find that disturbing. And these kids end up with the same kinds of problems as those who have actually experienced [abuse]. So then I thought, let's do the antithesis of this." 
To bring his story to life, Vinterberg needed to find the perfect actors for his two central roles of Lucas and Klara (Lucas' young false accuser). He found them in Mikkelsen and seven-year-old Annika Wedderkopp. To achieve a realistic, natural performance from Wedderkopp, Vinterberg didn't shy away from explaining his film's dark subject material to her. "We told her everything except for anything sexual, meaning that we told her she's been lying about it and that everybody's angry and that she's done something bad," Vinterberg says. "We thought that was the right thing to do because she would experience all this anger towards her in shooting the film and she needed to know why."
In contrast to Wedderkopp's sweet, innocent-looking (but untruthful) Klara is Mikkelsen as Lucas. While Mikkelsen's severe look usually lands him the role of the villain — most notably as Le Chiffre in Casino Royal and the titular character on NBC's Hannibal — he brought a softness and compassion to Lucas that Vinterberg didn't expect. "The character written in the script, he was a tough blacksmith, man of few words, written with a young De Niro from The Deer Hunter in mind, independent and strong," Vinterberg says. "And when Mads came on board I thought, well, you'll never really write a script about a teacher, it's not really sexy. But [Mads] is so much sex and so much manlihood, so much testosterone, that I found it actually interesting to reverse that. I'm glad we did because I thought it was heartbreaking what he did to that part." 
The ultimate example of Mikkelsen's — and therein Lucas' — vulnerability on display comes in a scene in the film's third act where Lucas attends church on Christmas Eve. Surrounded by his former friends and current persecutors, listening to a children's choir (which includes Klara) sing a hymn, Lucas breaks down. The scene is a turning point for the film and one that stays with audiences long after the final credits roll. "First of all, we prepared by talking about the scene, what motivates him to go the church. Mads needs to know this is real, not just something for the plot, so we talked a lot about that," Vinterberg says of preparing to film the emotionally draining scene. "We went over and over it, we did rehearsals, and he's just damn good. If any of these things would have been missing, it would not have been possible."
"The thing Mads and I have in common is this thing about justice," Vinterberg continues. "If something is unjust, we really get angry and stubborn. It may even be a Scandinavian thing, but at least we share it. He's got that, Mads, privately as well … A little bit [of that came through] in the church. 'Don't tell me I can't go to church, because I didn't do anything. Don't sit back there and talk about me.' And when he sees Klara and starts crying, I guess it's about Mads' technique. He did that 21 times, each time equally great, every time. He's just really good."
The cast's stunning, effortless performances as well as the film's indoctrination of Danish customs and habits not only evoke a real sense of place but lend the film an honesty. While we know these characters to be fictional, we can't help but feel that they really could exist, that they are living somewhere in Scandinavia's brisk landscape. "When we decided to do [the film] in Denmark, we of course dug into the soil of Denmark, all the rituals, the behaviors, and ways of being," Vinterberg says. 
But the horrifying plot, of course, is not distinct to Denmark. "This whole thing about being guilty by suspicion is very present over here [in the States] as well," Vinterberg says. "It's even tougher here; people take justice into their own hands in America. So they put up posters and faces on the Internet of people who've never been convicted. That wouldn't happen in Europe as much, I don't think."
And so it was in the snowy woods and frozen lakes of Denmark that The Hunt  was brought to life. "One thing is the plot, the other thing is to create a world around these people and a world around this film," Vinterberg says. "You have to build a past around the film so that when the audience leaves the cinema they know about these characters and feel that they've been there forever and they're going to continue to be there. And that is the majority of my work, to create something that stands out as being lively as possible — and that is all, of course, incredibly Danish."
Follow Abbey On Twitter @Abbeystone | Follow Hollywood.Com On Twitter @Hollywood_Com 
More:
Ultimate Villain Mads Mikkelsen on Being Good in 'The Hunt'  
Cannes Chatter: 'The Hunt' Premieres to Audience Applause
All the Questions 'Hannibal' Season 1 Left Unanswered 
---
From Our Partners


Stars Pose Naked for 'Allure' (Celebuzz)


20 Grisliest TV Deaths of 2012-2013 (Vulture)