'Thor: The Dark World' Trailer: 10 Key Moments Reveal Love Triangles, 'Avengers' Connections, and Possible Deaths
With little more than a week before Iron Man 3, Marvel has wisely whets audiences appetites for their next endeavor: Thor: The Dark World.
The first glimpse of the Thor sequel is a swift 1:46, but it's chock full of details. We knew Thor (Chris Hemsworth) and Jane (Natalie Portman) would eventually reunite, but the when/where/how has been up in the air. Now, we have a clearer picture. Here's the info we were able to trudge from the brief trailer: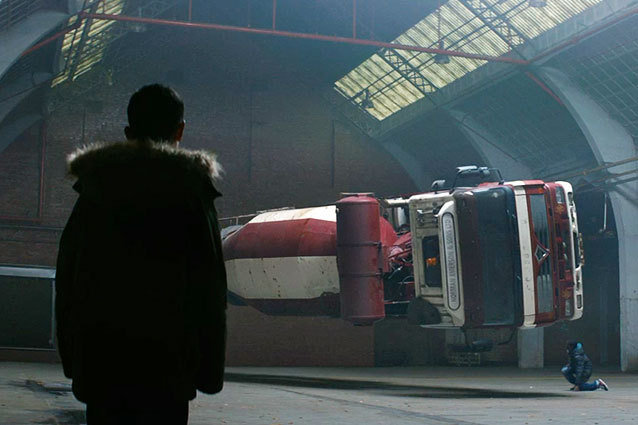 The trailer opens on a group of kids entering a loading depot – no Thor or Asgardian magic to be found. Yet one of the kids seems to be either imbued with powers or being assisted by an off-screen presence. When he touches the front end of a mac truck, it begins to hover in the air. Are the other realms of Thor mythology bleeding into our own?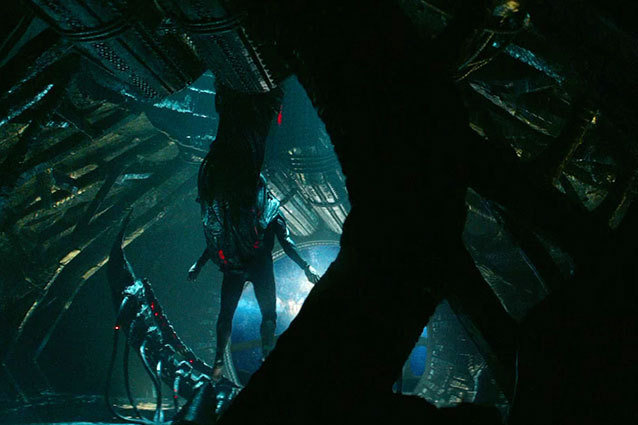 We get our first glimpse of Thor's new adversary Malekith the Accursed (Christopher Eccleston) from behind. He's dangling from a hookup that's more reminiscent of science fiction than the first Thor's fantasy aesthetic. Like the ship from Predator 2 or a Borg cube from Star Trek, Malekith's "ship" is pure alien technology, tying this the sequel to the grand finale of The Avengers.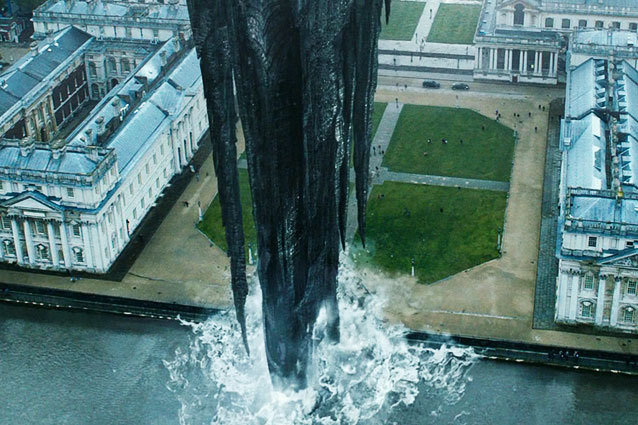 It's unclear if this enormous rock pillar is connected to the levitating car trick, but clearly something from an alternate universe arrives on Earth's doorstep. Part Superman Returns' kryptonian rock, part Star Trek space drill, this otherworldly object smashes through the edge of the coast (at the National Maritime Museum? Brits, this one is on you), chasing Kat Dennings' Darcy Lewis.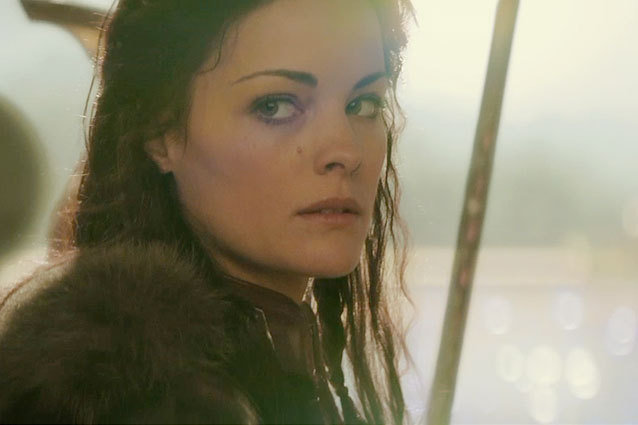 When Thor and Jane make it to Asgard, they're greeted by Sif (Jaimie Alexander). If those aren't the eyes of jealous childhood friend ready to start a love triangle, I don't know what are.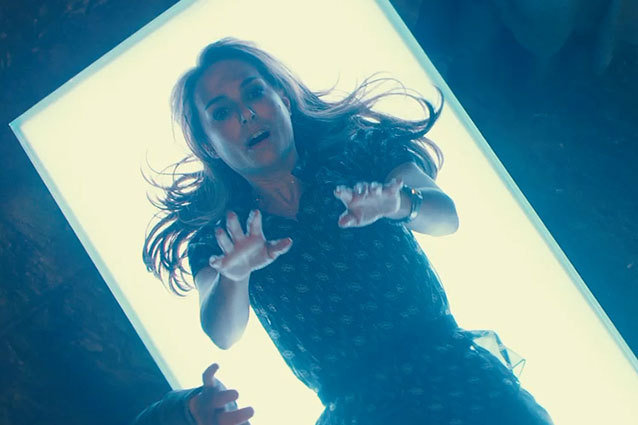 Tanning bed or Asgardian medical bay? In this shot, Jane is wearing a dress different from when she zipped up the rainbow bridge to Asgard for the first time and when she's later seen grappling in the magical clenches of Malekith. What happens in-between? Her voiceover says "We're from separate worlds. Maybe they separate for a reason." Someone has a case of inter-dimensional jet lag.
Malekith's warships once again pull from a science fiction palette rather than one of run-of-the-mill, Tolkien-inspired fantasy. Thor stressed that what humans saw as magic was really an evolved understanding of science. Thor: The Dark World pushes that explanation further.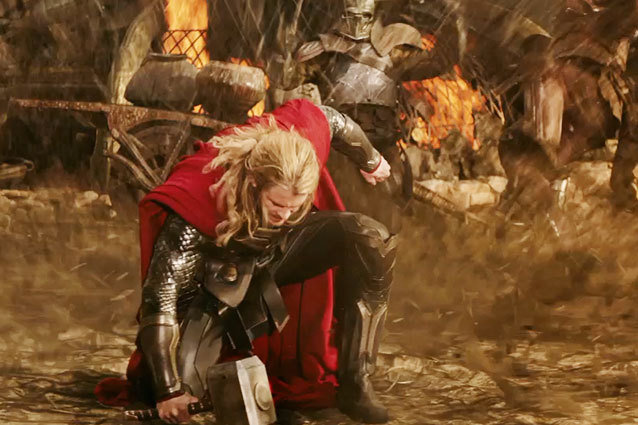 This is director Alan Taylor in full Game of Thrones mode (of which he is one of the main directors). One of the weaker parts of Thor were the hero's hammer-clobbering action sequences. The big Frost Giants scene from the first film was played in dim light. Finally, we see Thor bust some baddies up in broad daylight. The battle is likely taking place in Svartalfheim, the home realm of Malekith and his Dark Elf bandits.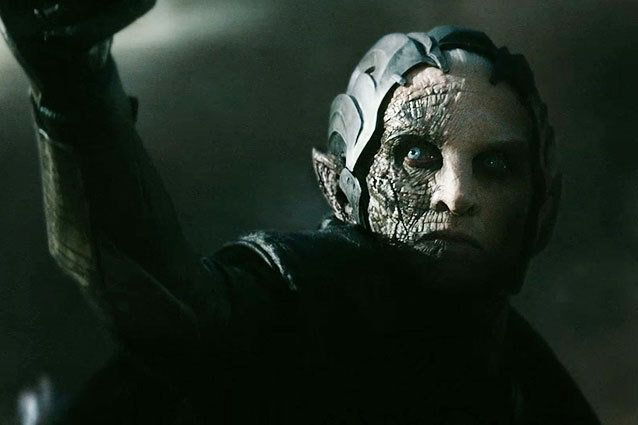 And then there's the Malekith money shot. In paparazzi snapshots leaked from set, Eccleston was pasty white across his whole face. In this shot, we see that half of his makeup job is covered in a crusty metallic shell. The comics explain that Malekith has a weakness to Iron — are we witnessing him having an allergic reaction.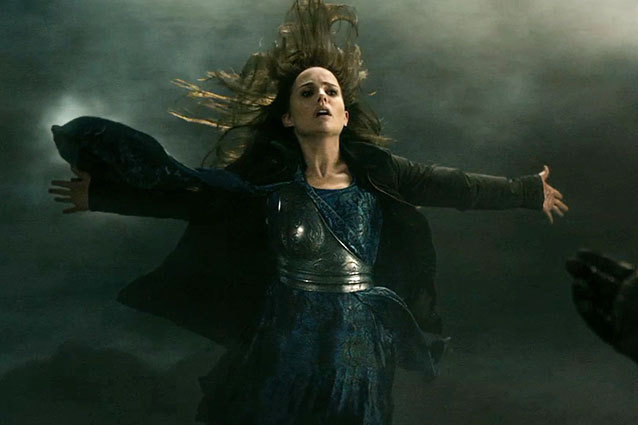 Very possible, thanks to what appears to be an iron piece of armor that Jane is wearing under her coat. Unless of course she thought a breastplate would be enough to ward off Malekith and she is painfully mistaken. In which case, Thor: The Dark World may make the bold (and, perhaps, contractually obligated) move of killing of Jane. Thor's Darth Vader-esque "NOOOOOOOOO!" plays to the theory.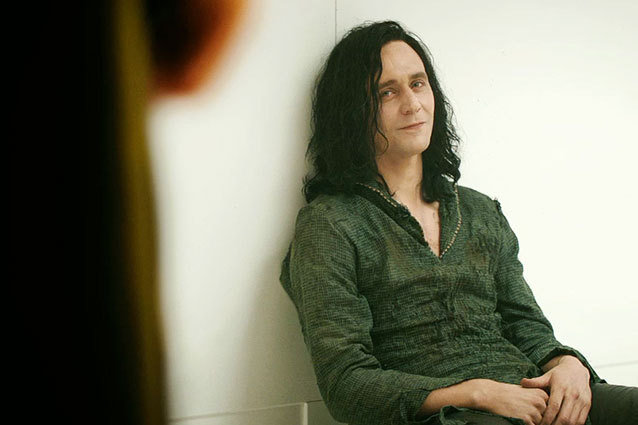 And the big finish. Wondering where Loki has been since The Avengers? Apparently he's been locked in an Asgardian holding cell a la Benedict Cumberbatch in Star Trek Into Darkness and Javier Bardem in Skyfall, growing out his hair like an '80s rock icon and waiting patiently for Thor to return. He'll be back along Thor's side once again in Dark World (we actually see him scaling a mountain earlier in the trailer), but don't expect him to play too nice….
Follow Matt Patches on Twitter @misterpatches
More:
First 'Thor: The Dark World' Trailer Reminds Us A Whole Lot Of 'star Trek'
Thor, Your Giant Hammer Is Ruining My TV Reception
'Iron Man 3' Set for $125 Million Debut
---
From Our Partners:


Eva Longoria Bikinis on Spring Break (Celebuzz)


33 Child Stars: Where Are They Now? (Celebuzz)