First 'Thor: The Dark World' Trailer Reminds Us a Whole Lot of 'Star Trek'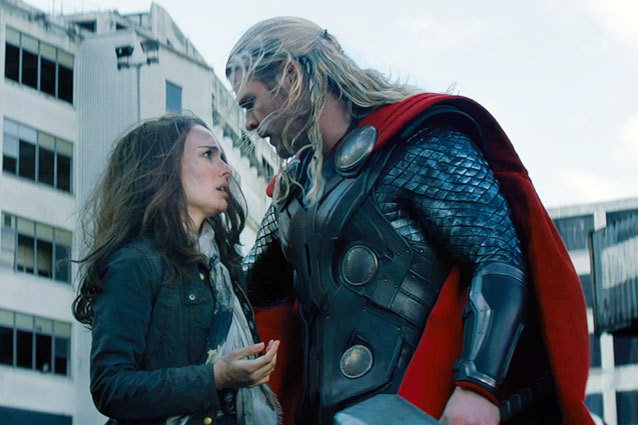 Asgard. The final frontier.
When we got word that a new Thor: The Dark World trailer would be hitting the waves, we laced our anticipation with all the fandom we've built up seeing Chris Hemsworth embody the Marvel demigod in Thor and The Avengers. Lo and behold, the new video does indeed call upon a fantastical blockbuster of recent years, but it's neither of these… the sequel seems, instead, to be strikingly similar to J.J. Abrams' Star Trek franchise.
Check out the trailer and see what we mean:
Not convinced? Take a closer look.
Check out the shot at the 25-second mark, which hearkens back to the interior of the Enterprise.
And how about just a few seconds later — the demonic pillars reigning down upon London recall both Star Trek's Los Angeles, victimized by a monstrous drill, and the terrorized England capital in the trailers for Star Trek into Darkness.
Then there's the mechanical beast at the 1-minute mark: none too far a leap from your Vulcan Bird of Prey, eh?
Finally, 1:20. That guy, the one with the pointy ears and the messed up face, just tell me he's not straight out of the mind of Gene Roddenberry. One part Vulcan, one part Borg, a little bit of Klingon in there. Bam. You've got yourself Star Trek into Dark World.
Catch Thor: The Dark World in theaters Nov. 8… and Star Trek into Darkness on May 17.
Follow Michael Arbeiter on Twitter @MichaelArbeiter
More:
Thor, Your Giant Hammer Is Ruining My TV Reception
'Star Trek Into Darkness': OMG Faces, Zero Context
'Star Trek Into Darkness' Lego Trailer
---
From Our Partners:


Eva Longoria Bikinis on Spring Break (Celebuzz)


33 Child Stars: Where Are They Now? (Celebuzz)