'Thor: The Dark World' Will Change How We Think About Elves — PIC
Norse mythology tells of elves who reside in the sunlit heavens and the dank caverns of the Earth's core. Marvel Comics has adopted these legendary creatures to inhabit the stories of its own Scandinavian hero, Thor, who will be seeing a sequel to his 2011 feature film take form next year. A new image from the set of Thor: The Dark World has arisen, promising that some of Marvel's Dark Elves will find their way to the big screen.
When we heard the world "elf" or "elves," a slew of connotations are triggered: Santa Claus, The Lord of the Rings, the 2003 Will Ferrell comedy, Keebler cookies, Dungeons & Dragons, the classic Rankin/Bass hero and misfit Hermey, sweatshop labor. But a mainstream title like a Thor followup will introduce a new embodiment of the word, in the form of the figure depicted below. Christopher Eccleston (it's hard to tell, but we do believe that's really him) will play Marvel's supervillain Malekith the Accursed, a formidable leader of the elf species and nemesis of deity Thor (Chris Hemsworth). The comics have seen Malekith form alliances with Loki, take control of large portions of humanity, and pursue hotly the Casket of Ancient Winters, which can launch Earth into a perpetual ice age.
Can an accomplished English actor like Eccleston provide an impressive enough performance to bring to life a new dominating connotation with the idea of elves?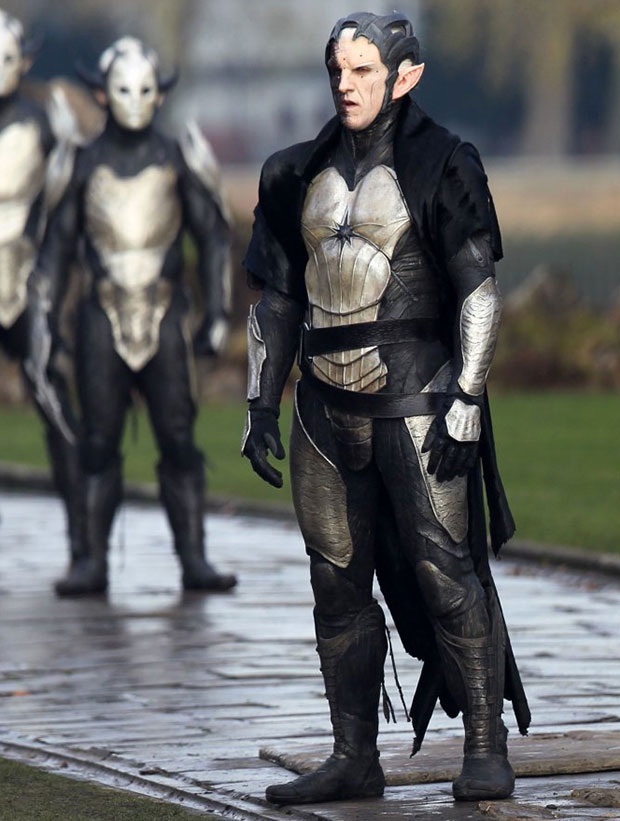 [Photo Credit: FameFlynet Pictures]
More:
How They Made the 'Skyfall' Title Sequence
9 Minutes of 'Star Trek Into Darkness' to Boldly Go in Front of 'Hobbit'
Marvel vs. DC: Which Brand Is the Bigger Threat at the Box Office?
From Our Partners:

'Twilight' Cast Now and Then (PICS) (Moviefone)
How to Be a Bond Director
(Moviefone)