'Thor' tops weekend – 'Bridesmaids' catch bouquet!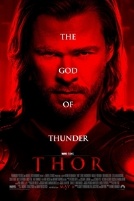 The summer movie season enters week 2 with Paramount's Thor holding on to its box office crown.  With newcomers posing no real threat to the Marvel Comics super hero a modest 48% drop still gave Thor enough box office muscle to top its second weekend with an impressive $34.5 million.  The Marvel superhero blew past the $100 million mark over the weekend and is generating impressive numbers overseas as well. IMAX continues to boost Thor with nearly $3 million added to the tally this weekend.
The Judd Apatow produced female-driven comedy Bridesmaids exceeded all expectations and threw a massive $24.4 million box office bouquet. An ensemble cast that features SNL alumni Kristen Wiig and Maya Rudolph, the film ups the ante with a very raunchy and R-rated brand of female-driven comedy that has been effectively highlighted in the terrific advertising campaign.  Women want raunchy movies as much as their male counterparts and this film proves the point.  A 35% Saturday gross uptick shows that the strong buzz generated on social networking platforms on Friday boosted the grosses all weekend long.
Universal's pre-summer release juggernaut Fast Five revved up a killer 3rd weekend tally of $19.5 million against a small 40% drop.   $86.2 million in its opening weekend proved the continued appeal of the franchise and great word-of-mouth continues to propel the film hastily down the road with $168.8 million in domestic receipts to date.
Sony's action packed Priest in 3-D took $14.5 million for the weekend and has earned $40.1 million globally to date.  Based on the graphic novel, the film stars Paul Bettany as the take no prisoners and quite formidable man of the cloth who takes on some very angry vampires. 
Fox's 3-D animated Rio continues to be a solid performer with the angry birds nesting another $8 million in its 5th weekend of release and a $125 million domestic total to date.  A mere 6% drop shows the incredible continued buzz on the film as families, starving for animated fare continue to support Rio.
The calm before the storm at the box office as Disney's Pirates of the Caribbean: On Stranger Tides in 3-D and IMAX prepares to set sail in over 4,000 theaters later this week.
Weekend Box-Office Estimates
Top Movies – For Weekend of May 13, 2011
    Movie     Weekend Gross     Total to Date
1     Thor (PG-13)     $34.5M     $119.2M
2     Bridesmaids (R)     $24.4M     $24.4M
3     Fast Five (PG-13)     $19.5M     $168.8M
4     Priest (PG-13)     $14.5M     $14.5M
5     Rio (G)     $8.0M     $125.0M