'Three Stooges' Sexy Controversy: Kate Upton and Other Unholy Nuns

If you happened to be Googling "nuns" recently, you might be aware of the controversy surrounding the new Three Stooges movie. One of the film's cast members, swimsuit model Kate Upton, appears as a nun, albeit one dressed in particularly skimpy bathing attire. The Catholic League was not particularly pleased with this depiction (nor with Larry David's character being named after a Nazi). However, it's not exactly as if this is the first time Hollywood has portrayed convent members in a non-nunly light.
A notable example occurs in regards to the film Machete, wherein Lindsay Lohan plays a young nun named April. A poster released in attachment to the film illustrated Lohan, donned in a habit, licking the end of a gun in a particularly provocative fashion. The fact that a nun is packing heat at all begs a ton of questions.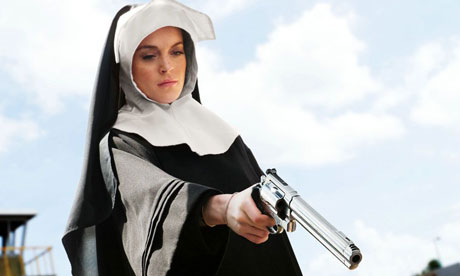 A movie-within-a-movie example (slightly more forgivable by church standards) occurred in How to Lose Friends and Alienate People. Megan Fox played an actress who was cast as a young, sultry Mother Teresa in an award-winning film.
In a slightly more innocent turn, Charlie's Angels: Full Throttle had stars Cameron Diaz, Drew Barrymore, and Lucy Liu go undercover as a trio of nuns during one scene. Although they played down the sex factor as embraced by Upton, Lohan and Fox in these roles, they still wouldn't quite fit in with a truly biblical crowd. And who could forget Amanda Detmer's stripper-turned-nun-turned-Jason Bigg's lover in Saving Silverman?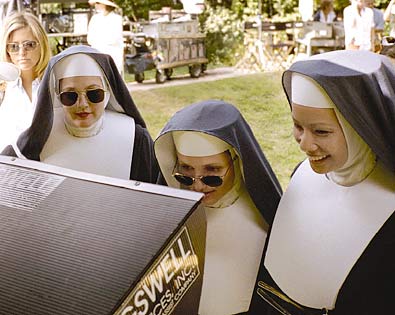 Television isn't innocent of this game, either. One of the 1990s most overtly sexualized characters, Christina Applegate's Kelly Bundy on Married… with Children, took up a life of nunship on one episode. However, she wasn't exactly deemed a suitable new member by the in-universe church — and the out-universe church probably wasn't too thrilled with it either.
Film and television, particularly comedies, love to tackle subjects that are taboo, sacrilegious, and just plain offensive. The Catholic League can vocalize its dissatisfaction with the depiction of nuns in public media, but it's quite likely that you won't be seeing an end to the inappropriate use of nuns onscreen anytime soon.
But at least there's Sister Act — that kind of balances everything out.
More:
Kate Upton in Three Stooges: Catholic League is Nun Too Pleased