TIFF 2012: 10 Films to Watch For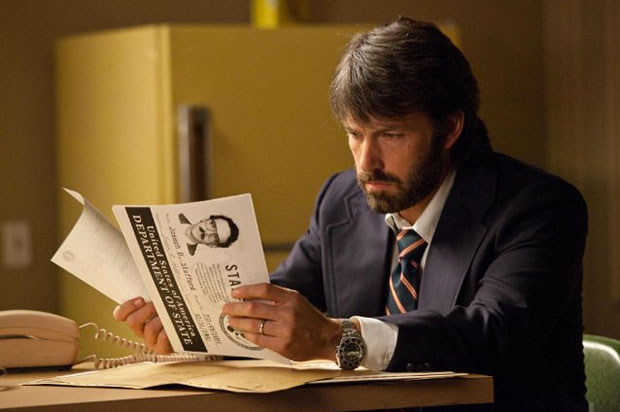 On September 6 the 2012 Toronto International Film Festival kicks off, bringing with it a bevy of A-list star power and some of this year's biggest, buzziest movies, not to mention early Oscar contenders. The festival, now in its 37th year, will present 372 films over the span of just 11 days. So which films playing at the world's second most prominent festival (right behind the incomparable Cannes) should movie buffs be paying closest attention to? We've narrowed them down:
Argo:
Ben Affleck's
movie about the rescue of six U.S. diplomats from Iran during the 1979 hostage crisis has taken off first in the Oscar race. The film by Affleck, who is pulling double duty once again as star and director, already earned raves at the Telluride Film Festival, making TIFF audiences even more eager to see what the ensemble drama has in store. (In addition to Affleck,
Argo
stars
Bryan Cranston
,
John Goodman
,
Kyle Chandler
, and
Alan Arkin
). A good showing at TIFF could give Argo an even bigger boost. Over the past few years, Best Picture winners
The Artist
,
The King's Speech
,
The Hurt Locker
, and
Slumdog Millionaire
all picked up steam in the Oscar race after a warm reception at TIFF. 
To The Wonder:
Affleck is part of not one, but two of this year's can't miss films at TIFF. The actor stars alongside
Rachel McAdams
(also pulling a TIFF double-header with
Brian De Palma
's
Passion
) and
Javier Bardem
in the drama about a man who returns to his hometown after his failed marriage to a European woman. But it's not the marquee stars that are drawing attention to the project, but its elusive Oscar nominated director
Terrence Malick
. His sixth feature comes just one short year after his masterpiece
Tree of Life
was released, making it the shortest amount of time Malick fans have ever had to wait for one of his films. So you'd better believe this will be one hot ticket at TIFF. 
The Master
:
Paul Thomas Anderson
, another brilliant filmmaker whose projects are few and far between, but always worth the wait (it's been five long years since the glorious
There Will Be Blood
) also has a film at this year's TIFF and, boy, does it look like a total knockout. (We've had chills just watching the trailers and clips). PTA's already intriguing
The Master
which is totally
not
about Scientology stars
Philip Seymour Hoffman
(also starring in buzzy TIFF feature
A Late Quartet
) as a the leader of a religion that is n
ot
Scientology. Did we mention it's not about Scientology? No matter, this one is not to be missed. 
Seven Psychopaths
:
Martin McDonagh
's first full length feature, 2008's bloody good black dramedy
In Bruges
was not only a critical darling (it earned McDonagh an Oscar for Best Original Screenplay and
Colin Farrell
a Golden Globe for Best Actor in a Comedy or Musical) but quickly earned status as a cult favorite. His follow-up
Seven Psychopaths
— stars
Woody Harrelson
,
Christopher Walken
,
Sam Rockwell
,
Gabouey Sidibe
and re-teams him with Farrell — is a dark comedy about a dognapping scheme gone awry in Los Angeles. Hey, at least they're not in f***ing Bruges. 
Cloud Atlas
: One of this year's most anticipated films has fans of
David Mitchell'
s beloved book of the same name waiting with baited breath. How will
The Matrix
masters
The Wachowskis
possibly be able to pull off the multi-layered, centuries-spanning tale for the big screen? The ambitious undertaking stars Oscar winners
Tom Hanks
,
Halle Berry
,
Jim Broadbent
, and
Hugo Weaving
, among others. Eager moviegoers will find out at TIFF if the 164 minute running time (!) can match the intensity of the five minute-long trailer. 
The Silver Linings Playbook
: No matter what there is to make of
David O. Russell'
s off-screen antics, he has undeniably capture the attention and admiration of movie buffs and critics alike with works like
Three Kings
,
The Fighter
, and
I Heart Huckabees
. The Oscar-nominated writer/director's latest, Silver Linings Playbook, stars hot commodities
Jennifer Lawrence
and
Bradley Cooper
as two people grappling with mental health issues. The quirky dramedy could be the indie breakout of the fest. 
The Iceman
:
Ariel Vroman
's
The Iceman
— pun completely intended — looks downright chilling. Based on the haunting true story of notorious hitman Richard Kuklinski, the film stars an Oscar-primed
Michael Shannon
(as Kuklinski), an unrecognizable
Chris Evans
, and an eclectic supporting cast that includes
James Franco
,
Winona Ryder
,
Ray Liotta
,
David Schwimmer
, and
Stephen Dorff
. The Iceman cometh to TIFF and festival attendees would be wise to goeth. 
The Impossible
: While
The Impossible
isn't the only natural disaster film to play at TIFF (
Aftershock
does as well) nor is it the first to broach trying to capture the horrors of the devastating 2004 earthquake and tsunami (a story line
Clint Eastwood
's
Hereafter
dealt with the tragedy) but
Juan Antonio Bayona
's telling of an amazing true life story of a family during the disaster won't be one to miss. Starring
Ewan McGregor
and
Naomi Watts,
The Impossible will be a certified tearjerker that could very well capture the attention of the Academy as its starts its journey on the festival circuit. 
The Perks of Being a Wallflower
: No, it may not be an Oscar contender like some of the other TIFF features, but like fellow TIFF entry
On the Road
,
Perks
is a beloved novel finally being brought to the big screen. With young talent like
Logan Lerman
,
Ezra Miller
, and
Emma Watson
(in her first post-
Harry Potter
effort) on board, positive early buzz on Perks could turn the adaptation of
Stephen Chbosky
's book into a sleeper hit. Plus, with all the heavy fare playing at this year's fest, Perks could be a welcome, and much-needed, break for moviegoers. 
Much Ado About Nothing
: We know, we know, haven't we seen this before? Sure, Shakespeare's classic has gotten the big screen treatment before, but never one that's a modern retelling from none other than
Joss Whedon
. Whedon, who is already having a banner year with
The Avengers
, is using some of the best actors from his arsenal of classics (including the likes of
Nathan Fillion
,
Fran Kranz
,
Alexis Denisof
,
Amy Acker
, and
Clark Gregg
) for the black and white flick. Movie geeks — assemble! 
Honorable mentions: Be sure to keep an eye out for some of these year's other must-see TIFF films including Cannes' Palme d'Or winner Amour; early Best Actor contenders like John Hawkes in The Sessions and Mads Mikkelsen in The Hunt; early Best Actress contenders Marion Cotillard in Rust and Bone and Keira Knightley in Anna Karenina; Lee Daniels' foray into noir, The Paperboy (yes, that one with Nicole Kidman and Zac Efron); the Blue Valentine reunion of Ryan Gosling and director Derek Cianfrance in The Place Beyond the Pines; David Ayers' latest cop flick End of Watch starring Jake Gyllenhaal; West of Memphis, the latest documentary on the always compelling West Memphis 3 case; and the film kicking off the fest, the mind-bending Blade Runner homage, Looper starring — who else? — Joseph Gordon-Levitt.