TIFF 2012: 'Amour' Is a Touching Punch to the Gut for Viewers Young and Old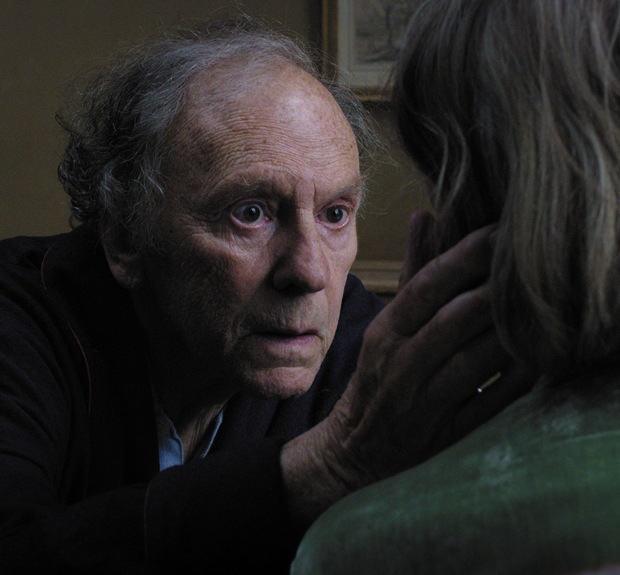 Michael Haneke is not in the "movies for entertainment" business. Or, at least, not the kind of cinematic entertainment that relies on bombastic visuals and wild plotlines to hook audiences. He's a realist, a philosopher, and the dramatic equivalent of MMA fighter Randy Couture. Get in the ring with him and he'll knock you out with only a few punches.
His latest film Amour, which had its North American premiere at the Toronto Film Festival, once again challenges viewers in blunt and terrifying ways, but with an added layer of sentiment that expands the German director's oeuvre. In the past, Haneke has directed films that center on a family's mass suicide (The Seventh Continent), home invasion and media violence (Funny Gmaes), sadomasochism (The Piano Teacher), and a town of inherently evil children who will eventually grow up to be the Nazi party (The White Ribbon). He's no stranger to downers. And while Amour has its own haunting twist, it might be the closest thing to a romantic tale the director will ever spin.
In true Haneke style, the setup for Amour is rather simple: Jean-Louis Trintignant and Emmanuelle Riva star as Georges and Anne, an elderly couple living in Paris who spend their days lounging around home, occasionally shopping for groceries or catching a show in the evening. One morning, Anne suffers a spat of complete memory loss, only to "reawaken" minutes later. The unprecedented incident prompts Georges to seek medical assistance, and a jump forward in time reveals it was only the beginning of Anne's health issues. In the wake of the minor incident, Anne suffers a stroke, leaving her paralyzed in one half of her body — even more devastating considering Anne's passion for playing the piano — and with a mind that's slowly dissipating. The couple's daughter Eva (Isabelle Huppert) heads to Paris to help care for her mother, but Georges insists he can do it. He's a loving man dedicated to nursing his wife back to normal.
What separates Haneke's work from so many films tackling similar subject matters is reality. Truth, no matter how ugly, is a keystone of his work and Amour never strays. Anne is at a point of her life where she can't get better. In fact, things only get worse. As time passes, the dying woman can't bathe herself, can't go to the bathroom on her own, needs Georges' assistance for tasks as simple as sipping water. Georges floats along helping how he can, but only seeing his own future in Anne. The pure love and joy in the man's heart makes Amour unexpectedly sweet, but the inevitable conclusion haunts every moment.
The slow death of old age isn't an easy concept swallow and Amour isn't an easy movie to watch. But even so, it's a must-see, an important dramatization of real life that we shouldn't be frightened to confront. Haneke and the two phenomenal actors (the physicality necessary to play a woman crippled by stroke deserves award recognition for Emmanuelle Riva) do the heavy-lifting. We just need to get in the ring.
Sony Pictures Classics is set to release Amour on December 19, 2012.
[Photo Credit: Sony Pictures]
Follow Matt Patches on Twitter @misterpatches
More:
TIFF 2012: 'Spring Breakers' Marks the End of Selena Gomez's Innocent Era
TIFF 2012: 'Anna Karenina' is Cinema, Theater, Opera, Ballet, and Brilliant