TIFF 2012: Artsy Vampire Flick 'Byzantium' Is Perfect for the YAF Reader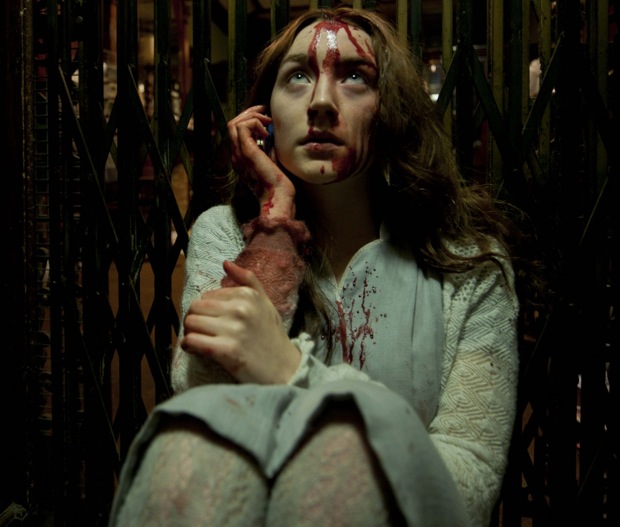 The latest entry in the escalating catalogue of vampire dramas isn't an adaptation of a young adult fiction novel (it's actually based on a play by English writer Moira Buffini), but it wouldn't be hard to mistake it as one. Sporting gorgeous photography of the English seaside and great performances from actresses Gemma Arterton (Quantum of Solace) and Saoirse Ronan (Hanna), Byzantium follows a mother and daughter as they try to get by without giving away their bloodsucking heritage. Along the way, their history is unraveled and a young romance emerges — sound familiar?
Like any good YAF story, Byzantium is enhanced by its style and character voices. When we pick up with them, Clara (Arterton) and the Eleanor (Ronan) are at constant odds. Their familial quarreling heats up exponentially when the they take up residence in an abandoned hotel Clara transforms into a brothel. She's been in the prostitution business for 200 years, and while Eleanor demands she give up the business, Clara sees it as their only money-making opportunity. The new living situation sends Eleanor on a desperate search for something more, another soul she can finally reveal her secret to. She finds it in Frank (Caleb Landry Jones), a shlubby teen who takes a fancy in Eleanor (although she's also up there in years, she's forever incased in the body of a 16-year-old). With an infuriating mother figure at home, Eleanor latches to Frank in hopes of spilling the beans and putting an end to life on the road.
Director Neil Jordan may not be a recognizable name to most young adult fiction fans, but he's one of the best in the business when it comes to magical realism. His oeuvre includes The Company of Wolves, Ondine, and most appropriately, Interview with the Vampire. Byzantium skews younger than his previous work, but the artistry is still intact. As Clara and Eleanor's backstory is revealed — a dense mythology involving 19th century soliders, a brotherhood of vampires, and a mysterious island with the power to slay and reanimate its visitors — Jordan is given an opportunity to wow us with gothic imagery. Murders of crows flooding a white sky, blood flowing from mountain tops like a river, close up shots of a vampire's killer thumbnail as it extends into a small blade — Jordan tells his story with vivid choices and has no issue weaving them seamlessly into his narrative. Bold, but fitting.
The modern material is served with its own stunning sequences. One could argue that the tantalizing act of sucking someone's blood is what has kept vampire stories around for centuries. Jordan seizes the opportunity, making Arterton's various gory hunts beautiful and terrifying.
But Byzantium may be better suited for those well-acquainted with young adult fiction, thanks to its meandering structure and pace. The first half of the film mostly features young Eleanor walking around town emoting in voiceover. She writes diary entries with her secrets then crumples them into garbage — but not without reciting them to the audience first. One of the biggest complaints of YAF naysayers is that the fiction spends too much time in their protagonists' heads. The stories spend countless pages diving into "feelings" rather than pushing the plot forward with sensical details. That's a valid criticism of Byzantium. But it may not even be a factor that registers for those accustomed to the style.
[Photo Credit: Parallel Films Limited / Number 9 Films]
Follow Matt Patches on Twitter @misterpatches
More:
TIFF 2012: Bradley Cooper, Jennifer Lawrence Give Career Bests in 'Silver Linings Playbook'
TIFF 2012: 'Cloud Atlas' Is a Big Picture That Explores the Big Picture
TIFF 2012: 'Spring Breakers' Marks the End of Selena Gomez's Innocent Era