TIFF 2012: Kristen Wiig & Darren Criss' Backstreet Boys Impression Keep 'Imogene' Afloat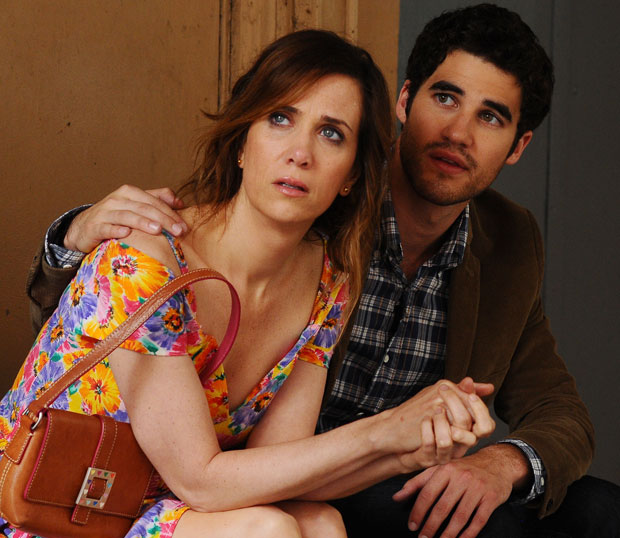 Shtick is a powerful tool. Audiences clamor for "the new," from Hollywood's biggest stars, but they also fall in love with performers because of their particulars. If Jim Carrey is cast in a role, we know what to expect. Same goes for a master thespian like Daniel Day-Lewis, whose shtick is absolute commitment to the reality of a role. Sometimes the identity an actor brings to the table grates on audiences — a reason why someone can pull a "Michael Cera" and the actual actor struggles to erase people's preconceptions.
Actress Kristen Wiig may be developing the same kind of recognizable shtick: authentically funny, but as people who watch her material know what's coming. Her latest, the indie Imogene which premiered at the Toronto Film Festival, supports the theory. It's not an especially inspiring film, but Wiig delivers plenty of laughs with her signature mumbly awkward style that made her a huge star on Saturday Night Live and, now, the big screen. Naysayers of the movie may wonder when the actress will push herself to change. Question is, should she?
Imogene kicks off with a pitch black inciting incident: In an effort to reclaim her ex-boyfriend and wallow in her recent firing, Imogene (Wiig) pretends to commit suicide. Unfortunately for her, Imogene's ex doesn't come to her aid, and she's eventually carted off to the hospital by a snobby colleague. The incident puts her in the hands of her gambling-addicted mother (Annette Bening) who hauls the aimless woman down to Ocean City, NJ for some soul searching.
The latest from American Splendor and HBO Cinema Verite directors Shari Springer Berman and Robert Pulcini, Imogene is one of those strange movies that seems to get everything right without packing enough edge to make a truly enjoyable experience. There's no shortage of gags for Wiig to knock out of the park, but instead of the script digging deep into Imogene's array of life issues — she's a burnt out playwright who looks down at everything around her — it relies on quirky trickery. Imogene moves in with her mother, her mother's boyfriend "The Bousche" (a supposed CIA agent, played by Matt Dillon), her hermit crab-enthusiast brother Ralph, and Lee (Darren Criss), the tenant renting her old bedroom who doubles as an Atlantic City Backstreet Boy impersonator. The eclectic family caters to Imogene's toxic presence as she adjusts to life back in her hometown, ample opportunity for the jaded New Yorker to learn a thing or two about the people who should be in her life.
Wiig may have shtick, but she's a capable performer who is capable of stretching her style to fit riskier vehicles (Paul was one such attempt). Imogene touches the surface of a twisted, dysfunctional family antics and but with Wiig at the wheel, it could have (and should have) pushed harder. The saving grace is a lovely dynamic between Wiig and her young costar Darren Criss. Once again, Criss is recruited for a role that requires, what else , song and dance skills. But beyond his boy band renditions is a performance of heart and simplicity. Leading man material for the future? Most definitely — but don't expect too much of that to shine through in Imogene.
If you're a fan of Wiig, you'll find enough enjoyment in Imogene. It's a movie that rides the mantra: "if it ain't broke, don't fix it." And Wiig definitely ain't broke.
[Photo Credit: Maven Pictures]
Follow Matt Patches on Twitter @misterpatches
More:
TIFF 2012: Bradley Cooper, Jennifer Lawrence Give Career Bests in 'Silver Linings Playbook'
TIFF 2012: 'Cloud Atlas' Is a Big Picture That Explores the Big Picture
TIFF 2012: 'Spring Breakers' Marks the End of Selena Gomez's Innocent Era