2013 Toronto Film Festival's Full Lineup Revealed: Why TIFF Is More Important Than Cannes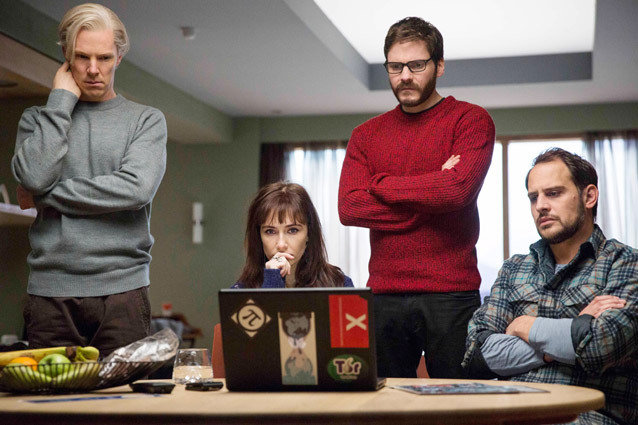 The organizers of the 2013 Toronto International Film Festival have released the full list of films they're planning to screen during the Sept. 5 – 15 fete. It's a decidedly more down to earth list of titles than appeared at Cannes in May but may boast even more Oscar contenders: films like August: Osage County, The Fifth Estate, Mandela: The Long Walk to Freedom, 12 Years a Slave, Gravity, and one very special new film from Hayao Miyazaki, The Wind Rises. Here are five takeaways we had from this year's TIFF lineup, and below that, you'll find a list of select titles from the lineup for which we're especially excited.
1. Character is King — Deeply felt character studies dominate the lineup this year rather than movies driven more by visual flash. Some are more or less traditional biopics like Mandela: The Long Walk to Freedom, Bill Condon's The Fifth Estate, starring Benedict Cumberbatch as Wikileaks founder Julian Assange, and Steve McQueen's 12 Years a Slave. Ron Howard's Rush emphasizes the clash of personalities between Formula 1 drivers James Hunt (Chris Hemsworth) and Niki Lauda (Daniel Bruhl) as much as it does the races. And Alfonso Cuaron's Gravity, perhaps the biggest visual spectacle on the TIFF lineup, is notable for being a portrait of a female astronaut (Bullock) and her struggle to survive after an accident while also dealing with her lingering emotional distress following the death of her daughter. Toronto this year is truly an actor's market. Even more so because…
2. A Bunch of Actors Are Trying Their Hand at Directing — Jason Bateman is making his feature-film directing debut with the spelling bee revenge comedy Bad Words, while James Franco is following up his (pretty much unwatched) Hart Crane and Sal Mineo biopics with his adaptation of Cormac McCarthy's Child of God. And of course Joseph Gordon-Levitt will unspool his directorial debut, Don Jon, which is also the first time we've seen him with a gelled-up pompadour.
3. Cory Monteith Is Well Represented – The late Glee star has not one but two films at TIFF, Gia Milani's All the Wrong Reasons and Josh C. Waller's McCanick, both of which will make their world premiere at the fest.
4. This is the Place for Smaller, More Personal Films — While Cannes can still celebrate movies that might not otherwise find an audience (like Abdellatif Kechiche's Palme d'Or winner Blue Is the Warmest Color, also at TIFF), Toronto goes all-in for small films. Just this past May Cannes got showy movies from big, flashy directors like Roman Polanski, the Coen Brothers, Baz Luhrmann, Nicolas Winding Refn, Stephen Soderbergh, and Takashi Miike. But this year Toronto will draw Steve McQueen, Kelly Reichardt, Stephen Frears, Jason Reitman, and Alex Gibney, often the makers of quieter, more introspective films — films that may not even have found a distributor yet. That's ultimately why…
5. Toronto Is More Important Than Cannes — Actor and Lars von Trier repertory member Jean-Marc Barr once told me, "Cannes is now like the G8 summit." It's pretty corporate and not as essential these days for films really looking for a distributor. Looked at another way, Palme d'Or winner Blue Is the Warmest Color still doesn't have a North American distributor. However, Toronto is the perfect laboratory for testing out films with a North American audience — if Franco's Child of God doesn't get a distributor after TIFF, it might not get one at all. You can also see Toronto as the first stop on the Oscar circuit. If there's a groundswell of support for Sandra Bullock for Best Actress consideration for Gravity, it'll be because buzz was first generated among potential Oscar voters at Toronto, not Cannes.
Here are some of the most notable films appearing TIFF 2013. What are you looking forward to?
The Fifth Estate Bill Condon, USA (World Premiere) OPENING NIGHT
Life of Crime Daniel Schecter, USA (World Premiere) CLOSING NIGHT
August: Osage County John Wells, USA (World Premiere)
Mandela: The Long Walk to Freedom Peter Chadwick (World Premiere)
Rush Ron Howard, United Kingdom/Germany (International Premiere)
All the Wrong Reasons Gia Milani, Canada (World Premiere)
The Armstrong Lie Alex Gibney, USA (North American Premiere)
Bad Words Jason Bateman, USA (World Premiere)
Blue Is The Warmest Color Abdellatif Kechiche, France (North American Premiere)
Child of God James Franco, USA (North American Premiere)
Dallas Buyers Club Jean-Marc Vallée, USA (World Premiere)
Don Jon Joseph Gordon-Levitt, USA (Canadian Premiere)
Gravity Alfonso Cuarón, USA/United Kingdom (North American Premiere)
Labor Day Jason Reitman, USA (World Premiere)
McCanick Josh C. Waller, USA (World Premiere)
Night Moves Kelly Reichardt, USA (North American Premiere)
Only Lovers Left Alive Jim Jarmusch, USA (North American Premiere)
Philomena Stephen Frears, United Kingdom (North American Premiere)
12 Years a Slave Steve McQueen, USA (World Premiere)
The Wind Rises (Kaze Tachinu) Hayao Miyazaki, Japan (North American Premiere)
Follow Christian Blauvelt on Twitter @Ctblauvelt
More:
Brad Pitt Good, Michael Fassbender Evil in '12 Years a Slave'
'Gravity' Trailer Will Make You Glad You Never Went to Space Camp
'August: Osage County' Trailer Has Streep and Roberts Compete in a Drawl-Off
---
From Our Partners:


40 Most Revealing See-Through Red Carpet Looks (Vh1)


15 Stars Share Secrets of their Sex Lives (Celebuzz)