Tim Burton Takes You to the 'Frankenweenie' Puppet Hospital — EXCLUSIVE VIDEO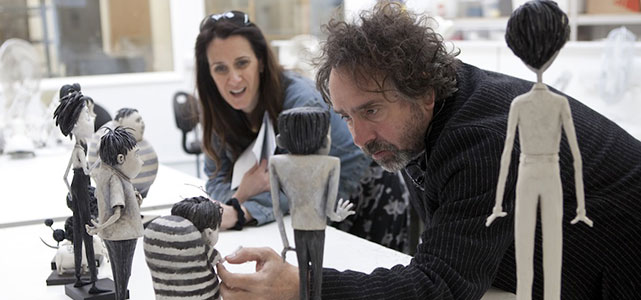 Tim Burton has an eye for detail, a knack that's kept audiences coming back to his films time and time again over his 25 years. Through macabre sensibilities, twisted designs, and characters who wear their weirdness proudly, Burton has established his own aesthetic — people refer to other filmmakers' choices as "Burton-esque."
He's a visionary who can clearly dictate his ideas to collaborators, a key skill that is even more vital when Burton is working in animation. In his latest film Frankenweenie, Burton translates a concept from his past — the story of a young boy who resurrects his beloved dog, which the director previously brought to life in a 1984 short film — into fluid stop-motion animation. This is a technique he oversaw in The Nightmare Before Christmas and finally tackled as a director with Corpse Bride. It's the perfect medium for the detail-oriented director: every frame of a stop-motion film must be handcrafted and perfectly calibrated. Anything that's not flowing in a precise order will look rigid when the various shots fly by at 24 frames per second.
In this exclusive video feature, Burton pulls back the curtain on the laborious process, following his crew of master artisans as they toil meticulously over each puppet, each costume, each thread of hair that must be perfectly placed. It's obvious Burton doesn't take it for granted — as a lover of film, he's equally impressed by the craft that helps bring his creature feature to life.
Watch the feature below and look for Frankenweenie when it rises into theaters October 5.
Follow Matt Patches on Twitter @misterpatches
[Photo Credit: Walt Disney Pictures]
More:
Comic-Con 2012: Inside Tim Burton's Frankenweenie Art Exhibit — PICS
'Frankenweenie' Pays Homage to Classic Horror Films in New Trailer — VIDEO
7 Movie Dogs We Wish We Could Resurrect 'Frankenweenie'-Style