Time Travel With Steven Soderbergh on the Streets of New York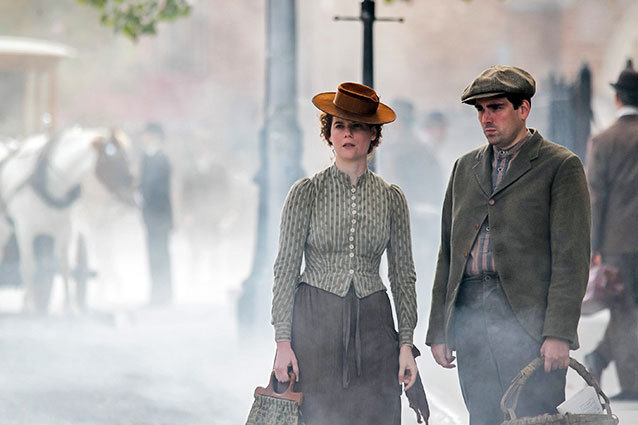 Allan Bregg / Splash News
For those who live in cities with an active film industry, spotting idle celebrities wearing wigs and looking bored while smoking cigarettes is just another Thursday. But sometimes, even locals can be caught off guard.
When a Hollywood back lot won't suffice, you have to go straight to the source for old-timey looking buildings. New Yorkers got a bit of a surprise when a block of lower Manhattan was transformed into 1900s Americana — complete with dirt and hay covered streets, and all signs of modernity removed. And to think, they were JUST getting used to those shared Citibike racks, now they have to deal with horse buggies and street urchins.
Turns out this transformation is thanks to Steven Soderbergh, who's filming his new Cinemax series, The Knick, starring Clive Owen — so much for Soderbergh's retirement. Set in downtown New York, the new drama is about "Knickerbocker Hospital and the groundbreaking surgeons, nurses and staff, who push the bounds of medicine in a time of astonishingly high mortality rates and zero antibiotics." Also, Owen is set to play a doctor hooked on liquid cocaine. Let's hope he doesn't go method for this one. The series is set for release in sometime next year. So if you're in the city, head over to Orchard Street between Delancey and Grand in the Lower East Side to catch a glimpse of the filming or just for some vicarious time travel on your lunch break. If you wear a bonnet, perhaps you could pass for one of the 300 extras on set.